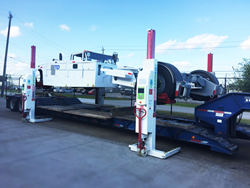 The Stertil-Koni lifts are awesome.
Stevensville, Maryland (PRWEB) July 30, 2015
Award-winning, Dallas-based Southwest Airlines has discovered a novel way to get airborne, particularly when it comes to taking delivery of its new airport service vehicles.
When the top-rated carrier recently needed to offload its new, towbarless airport pushback vehicles from a flatbed truck, it turned to heavy duty mobile column lifts from Stertil-Koni for the assignment – saving Southwest money while making the process quicker and more efficient.
As Southwest Airlines' Allen Brown, explained: "We used to have a crane meet the equipment for off-loading, now we use the lifts instead. The Stertil-Koni lifts are awesome."
The lift model selected by Southwest is the Stertil-Koni EARTHLIFT, the industry's first hydraulic "green" mobile column lifting system. True to its name, this lifting system features columns that are made with components that are 98% recyclable and the Active Energy Retrieval System (AERS) allows operators to achieve 35% more lifting cycles at maximum lifting load. Thus, users realize an average of up to 45 or 50 lifting cycles without recharging. In addition, EARTHLIFT uses a closed hydraulic system that contains bio-degradable oil and the batteries are 100% recyclable.
The EARTHLIFT has proven to be well suited to safely raise all types of vehicles, including those with super single tires. What's more, the EARTHLIFT is truly mobile, and can easily be wheeled into position by a single technician.
Noted Stertil-Koni president, Dr. Jean DellAmore, "As the recognized leader in heavy duty vehicle lifting systems, we are proud to be of service to another industry leader, Southwest Airlines. It is extremely gratifying to see how innovative organizations of all types are using our lifting systems to achieve greater performance and efficiencies."
About Stertil-Koni
Stertil-Koni, a brand of the Stertil Group, is the global market leader in heavy duty vehicle lifts – bus lifts and truck lifts– and is the preferred supplier to the world's leading companies in the truck and bus industries. Stertil-Koni's breadth of products meets all ranges of lifting needs and includes mobile column lifts, two-post, four-post, in-ground piston lifts, parallelogram lifts, half-scissors and its innovative axle-engaging, in-ground, scissor lift configuration, ECOLIFT. Stertil-Koni is also now installing DIAMOND LIFT across North America, a full rise telescopic piston lift designed to set new standards in precision heavy duty lifting. Stertil-Koni USA is headquartered in Stevensville, Maryland. Stertil-Koni has production facilities in Europe in The Netherlands, and in the USA in Streator, Illinois.