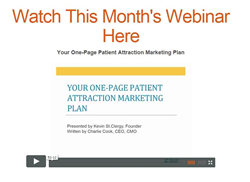 Austin, TX (PRWEB) July 29, 2015
Educated Patients, an audiology marketing and practice building company, works with audiologists and hearing aid specialists to use a proven one-page audiology marketing plan in a recently released webinar titled Your One-Page Patient Attraction Marketing Plan.
According to Educated Patients, many audiology practice owners want to grow their practices but have difficulty sorting through the hundreds of marketing ideas and tactics that are currently available. From social media marketing to article marketing to traditional print advertisements, private practice owners are simply too busy caring for patients to track and implement every marketing idea they encounter.
In response, Educated Patients has developed a one-page proven marketing plan that cuts through the confusion, helping practice owners to focus and identify the marketing activities that are most likely to help their practice grow.
In the webinar, Educated Patients demonstrates how to identify a practice's target market, how to determine what makes the practice unique, how to develop a powerful marketing message that attracts patients, and how to identify the specific marketing tactics that deliver the best results and the most new patient calls.
The webinar concludes by addressing the biggest marketing challenge private practice audiologists and hearing specialists face: implementation. Again, most practice owners don't have the time—after seeing patients and fitting hearing aids—to engage in the marketing activities that are necessary for growth. The solution is often achieved by partnering with a marketing agency that can ensure a constant flow of new patients while practice owners can focus on patient care.
Educated Patients works with practice owners to use its one-page audiology marketing plan to simplify and execute a successful marketing plan. Practice owners interested in obtaining the template are encouraged to contact Educated Patients today.
About Educated Patients
Educated Patients helps private practice audiologists and hearing professionals attract more patients, gain more profits, and secure more free time by using proven systems in marketing, web design, SEO, social media, and business process coaching and consulting.
Contact:
Jen Irons
Educated Patients
http://www.educatedpatients.com
888-339-5281