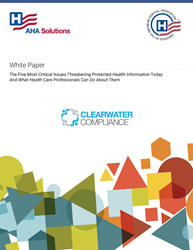 "Despite numerous headline-grabbing data breaches in health care, many organizations still don't consider information security to be a top priority – and have not earmarked sufficient funds to mature their information risk management programs,"
Nashville, TN (PRWEB) July 30, 2015
Last year (for the first time ever), intentional attacks surpassed unintentional mistakes as the leading source of the compromise of Protected Health Information (PHI) security.
Criminal attacks against healthcare organizations have increased 125% since 2010. The recent data breach at health insurer Anthem exposed about twice as many patient records (80 million) as the total number reported under the HITECH Act from its inception in 2010 through 2014 (40 million).
This new white paper focuses on the five most critical issues in safeguarding PHI:

The constantly evolving threat environment
Insufficient resources to combat those threats
Ability to effectively measure information security risks and processes
Organizational apathy toward information security
Lack of availability of tools to prevent/eliminate threats
Lost laptops and other employee mistakes once were the leading causes of PHI compromise, but now the biggest threat is from outside intruders and malware. The white paper challenges health care organizations to respond accordingly in order to ensure that they, along with their business associates, are doing everything they can to safeguard the confidentiality, integrity and availability of PHI.
"Despite numerous headline-grabbing data breaches in health care, many organizations still don't consider information security to be a top priority – and have not earmarked sufficient funds to mature their information risk management programs," says Bob Chaput, CEO of Clearwater Compliance. "Yet the cost of preventing data breaches is just a small fraction of what it costs to remedy them."
To download a free copy of the AHA Solutions/Clearwater Compliance white paper, visit https://clearwatercompliance.com/thought-leadership/white-papers/.
About AHA Solutions
AHA Solutions, Inc. is a resource to hospitals pursuing operational excellence. As a subsidiary of the American Hospital Association, AHA Solutions collaborates with hospital leaders to identify key challenges the field faces. After conducting the proprietary AHA Signature Due Diligence Process™, we award the exclusive AHA Endorsement. As an AHA member service, AHA Solutions provides access to content experts and education to support product decision making, and convenes people with like interests for knowledge sharing that is centered on timely information and research.
AHA Solutions is proud to reinvest its profits in the AHA Mission: To advance the health of individuals and communities. For more information, contact AHA Solutions at 800.242.4677 or visit http://www.aha-solutions.org/.
About Clearwater Compliance
Clearwater Compliance, LLC, focuses on helping health care organizations and their service providers improve patient safety and the quality of care by assisting them to establish, operationalize and mature their information risk management programs. Led by veteran, C-suite health care executives, Clearwater provides comprehensive, by-the-regs software and tools, educational events, and expert professional/advisory services for health care organizations ranging from major healthcare systems, hospitals, health plans and Fortune 100 companies, to medical practices and health care startups. Since 2003, the company has served over 450 organizations. Find out more about our privacy, security, compliance and information risk management solutions at clearwatercompliance.com.