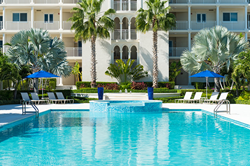 "The Venetian offers privacy, luxury and intimacy on the most beautiful pristine stretch of Grace Bay Beach"
Providenciales, Turks & Caicos Islands, BWI (PRWEB) July 31, 2015
The Venetian on Grace Bay in the Turks & Caicos Islands is pleased to announce a special offer for fall, 2015. Guests who stay at the Venetian will save 40% on their stay while enjoying some of the most beautiful ocean views in the Caribbean.
The fall months are always quiet in the Turks & Caicos, providing a chance to reconnect with loved ones and rediscover one's best self. The sea in front of the Venetian on Grace Bay is toasty warm, and the waves are gentle. It is the perfect place to plan a fall vacation.
To mark the start of fall, The Venetian is offering 40 percent off all one, two, and three bedroom oceanfront villa rentals. The offer is based on a minimum three-night stay (September 1 to October 31). Guests who take advantage of this offer will enjoy such amenities as complimentary cell phones upon check in for use throughout their stay, complimentary daily housekeeping, complimentary beach towels for use at their 70 foot european-style pool and at the beach, and access to their fitness center, dedicated on-site massage therapist, bikes, complimentary wifi and more.
For more information on this wonderful fall special, call (toll free) 1-877-277-4793.
Explore Grace Bay and The Venetian on a Virtual Tour
If you are new to Grace Bay and want to learn more about one of this award-winning beach, the Venetian on Grace Bay offers virtual tours of its gorgeous rooms, beautiful pool area and pristine and private beachfront.
Elegant and sophisticated, the Venetian on Grace Bay offers top-notch service and privacy, serenity and a peaceful stay.
Located on an intimate stretch of Grace Bay Beach, The Venetian guarantees the ultimate in seclusion and relaxation at a Turks & Caicos luxury boutique resort.
For more information on fall specials or winter, 2016 specials, contact resort manager, Terria Misick, at 1-866-242-0969, 1-649-941-3512, or go to http://www.thevenetiangracebay.com.