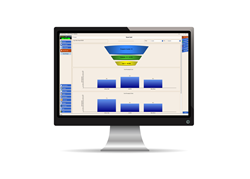 HindSite's Sales Manager helps field service businesses sell faster and smarter.
St. Paul, MN (PRWEB) July 31, 2015
HindSite Software, the leading field service software solution for green industry businesses, today announced the release of the HindSite Sales Manager, a field service sales add-on to the HindSite Solution. The HindSite Sales Manager helps field service businesses who struggle managing sales opportunities by delivering information they can leverage to understand where their sales stand, ultimately helping them sell faster and smarter.
For many field service businesses, managing their sales opportunities is either entirely paper-based or, even worse, opportunity information isn't tracked at all. That leads to inefficient processes and less than optimal sales.
The HindSite Sales Manager helps businesses sell faster and smarter by enabling them to see and act on their sales pipeline. In addition to their pipeline - how many prospects and estimates they have - businesses can track key information like close rates and see their progress to their sales goals."
"When I talk to owners of field service businesses, they're always interested in improving their sales effectiveness," explained HindSite President and founder, David Crary. "HindSite's new Sales Manager does just that, helping them sell faster and smarter.
Sales Manager is also tightly integrated into HindSite's field service software, simplifying data entry and scheduling. Because HindSite includes a robust field service CRM, data need only be entered once and then can be used by sales, operations and accounting.
Sales Manager also helps business owners see at a glance how their sales team is performing. Visual representations of their pipeline, progress toward sales goals, close rates and other information can help businesses analyze and improve their sales processes.
"Field service business owners are extremely busy," explains Crary. "The Sales Manager was designed so that they only need to spend a couple minutes every day reviewing key sales data. In those few minutes, they'll be able to understand exactly how they're progressing toward their sales goals."
To learn more about HindSite's Sales Manager, visit http://www.hindsitesoftware.com/field-service-sales.cfm.
About HindSite
HindSite Software has helped contractors better manage and grow their business with field service software since 2001. Initially designed as irrigation scheduling software, HindSite today assists service businesses with scheduling and routing, contact and contract management, field data collection, and invoicing in QuickBooks® and Sage50. This paperless field service management software has been proven to increase efficiency and organization, meaning greater profit potential with less administrative time.