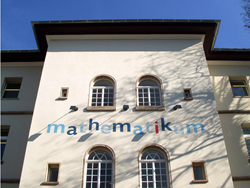 Halsbury Travel was created by a former teacher who had seen first-hand that school trips give students the opportunity to understand the practical application of the subject.
(PRWEB UK) 31 July 2015
Amid growing concern over the state of the nation's maths skills, a new qualification will be launched in schools and colleges across the country this September. 'Core Maths' will target students who achieve at least a grade C at GCSE and who wish to continue to develop their maths skills without taking the subject at A-Level. The course will focus on practical maths and problem solving, with students answering questions on student loan repayments and home improvement measurements.
All this is part of a greater appreciation in the role of maths within many other subjects, particularly when studied at university level, as well as the necessity for students to leave education with the basic maths skills to see them through life, both at work and in their personal lives. This is important not only for individual students, but for the national economy too.
Unlike most other First World countries, the study of maths is not compulsory in post-16 education. As Steve Munby, Chief Executive of the CfBT Education Trust wrote in the Telegraph on 17th July, this puts young people at a serious disadvantage when competing in the international jobs market and also leaves the UK "at risk of falling behind in the global race to tap the potential of 'big data'".
Leading school tour operator, Halsbury Travel, offers tailor-made school maths trips. Mathematics Tours Specialist, Lynsey Palmer, explains the company's thoughts on the new approach to maths education: "Halsbury Travel was created by a former teacher who had seen first-hand that school trips give students the opportunity to understand the practical application of the subject. It is this that is key in maintaining their interest in it and, at a time when the vast majority of students completing their GCSEs are choosing not to continue with their maths studies, we are optimistic that this new qualification will also help students to understand the benefits of continuing with such an important subject."
Halsbury Travel's school maths trips include a number of curriculum-based activities, all designed to meet the group leader's learning objectives. "One of our most popular school maths trips is to Frankfurt in Germany" explains Palmer. "At the economic heart of the EU, this is a fantastic trip for educating students on the relevance of maths in today's world. Groups can visit the city's stock exchange and the headquarters of Deutsche Bank. There is also a fantastic interactive museum, the Mathematikum, which gives students the opportunity to experience the fun side of maths."
One of the main concerns is that students are arriving at university to study subjects as diverse as geography, sociology, nursing and archaeology, without realising that a good level of maths is required, as shown by the Mathematical Transitions report released by the Higher Education Academy in 2014. A lack of adequate maths skills leave many at a considerable disadvantage, especially when handling data or analysing statistics, and can make the transition from sixth form or college to university even more difficult for students.
A school maths trip can provide essential support for teachers who want to convince their students of the practical application of maths, and its use and importance in their everyday lives. Teachers may even like to consider cross-curricular trips, to show students that maths skills are essential in many other subjects. Therefore, school trips can certainly support the teaching of the new 'Core Maths' qualification, while also being of considerable benefit to all students in conveying the same message intended by this new qualification: that maths is much more than a subject; it is an essential life skill.
Halsbury Travel was founded in 1986 by former French teacher Keith Sharkey, who passionately believes in the educational value of school travel. Still independently owned, Halsbury Travel is a family-run business with two generations of the Sharkey family now working for the company, supported by a dynamic team consisting of former teachers and school travel specialists. Family values are core to the business, with honest advice and quality of service key to what makes Halsbury Travel unique in the school travel market. For further information: http://www.halsbury.com/