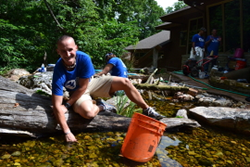 East St. Louis, Missouri (PRWEB) July 29, 2015
Jackie Joyner-Kersee Center is looking for volunteers to help transform the community center during a one-day makeover.
Jackie Joyner-Kersee Center has been selected for this year's Summer Service Slam Project by The Mission Continues, the nonprofit organization that deploys veterans to serve in their local communities on new missions that harness their skills and dedication. The goal of The Mission Continues is to empower veterans to find new ways to serve, easing their reintegration back to civilian life.
The Summer Service Slam is an annual project of The Mission Continues and FOX Sports Midwest. The Fifth Annual Service Slam will take place at the Jackie Joyner-Kersee Center Saturday, August 1st from 8 a.m. to 1 p.m. Veterans will be working alongside civilian volunteers of all ages on a variety of projects to improve the community center.
For years, the Jackie Joyner-Kersee Center has served as a community safe place fostering the education and health for youth in East St. Louis. August 1st is an opportunity for anyone interested to make a measurable impact at the center and empower our local youth through the Summer Service Slam.
Projects participants will have the opportunity to work on include:

Building a library and resource room
Enhancing the learning garden
Constructing a playground for local youth and families
Building sitting benches along trails
The Mission Continues Team will provide the organization, logistics and leadership. Everyone will contribute the elbow grease to get the jobs done during 3-4 hours of focused work.
FOX Sports Midwest and The Mission Continues are working together for the fifth year. FOX Sports Midwest will produce a feature story about the Service Slam that will air during a future St. Louis Cardinals baseball telecast. In addition, Boeing has invested to support the project as a presenting sponsor and will bring more than 100 volunteers to help transform the community center.
Volunteers are encouraged to join The Mission Continues veterans for a family-friendly day to do some work, get a little dirty, and accomplish a lot of good. Tools, work gloves, snacks and water will be provided. Participants should come dressed for the weather and prepared for physical activity. For more information on the Summer Service Slam Program and how to volunteer, go to https://www.missioncontinues.org/event/search
Jackie Joyner-Kersee Center is located at 101 Jackie Joyner-Kersee Circle, East St. Louis, IL 62204. Those interested in finding out more can also visit their website at http://www.jjkfoundation.org/