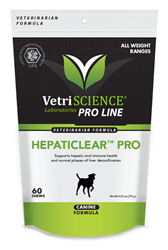 " This formula has been a year in the making and addresses the many issues that were brought to us about liver health from our partner veterinary clinics" Sara P, VetriScience Strategic Brand Manager.
Essex Junction, Vermont (PRWEB) August 19, 2015
VetriScience® is proud to introduce a critical component of our veterinarian exclusive Pro Line, HepatiClear™ Pro.
HepatiClear™ Pro is a powerful formula containing antioxidant plant extracts in phytosome form to support liver health and proper detoxification. Along with immunological supportive ingredients, like DMG and betaine, our phytosomes offer advanced support for normal phases of the detoxification process.
Advanced, patented plant compounds in phytosome form offer better potential absorption than standard extracts – up to 30 fold increase in bioavailability*; patients get the most out of each HepatiClear™ Pro chew.
Seven proven ingredients, three ways to support liver health:

Superior antioxidant protection through support of glutathione production.
Supports the normal inflammatory response via the hepatoprotective features of CurcuVet®
Increased bile flow - essential for detoxification.
HepatiClear™ Pro is the newest addition to our veterinarian exclusive Pro Line, designed specifically for clinical recommendation. To learn more about the Pro Line, visit vetriproline.com.
At VetriScience® Laboratories, our mission is to provide veterinarians with powerful products backed by science to complement traditional therapies. We are committed to using pure and highly researched ingredients in products that are safe, effective, and developed by vets for vets