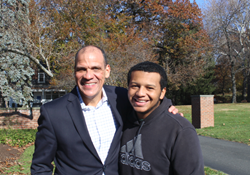 I felt strongly that if I did not do something to help these students advance academically and socially they might never have the chance to really fulfill their dreams.
Dobbs Ferry, New York (PRWEB) July 31, 2015
Committed to helping the next generation succeed - Mercy College is supporting President Barack Obama's call to action by asking community members to contribute to the College's "My Brother's Keeper Scholarship." The President's signature initiative issues a call to action focused on, "Helping more of our young people stay on track. Providing the support they need to think more broadly about their future. Building on what works – when it works, in those critical life-changing moments." In 2013, Mercy College collaborated with Joe Schlater, a finance executive, to establish "My Brother's Keeper Scholarship" fund to benefit African-American or Hispanic males enrolled in Mercy's School of Business.
Director of Planned Giving Phillip Keefe said, "As a college we are committed to helping students improve their life outcomes. We want to ensure that they are reaching their full potential. Our motto is 'come as you are' - regardless of wealth or anything else."
Schlater was inspired to start the scholarship at Mercy College after meeting James Holmes, a business honors student at Mercy who grew up in a crime stricken area of South Central Los Angeles. Schlater met Holmes through a Virtual Enterprise competition.
"I was impressed by how James and all of the students presented themselves at the VE fundraising event," said Schlater of the ambitious Holmes. "I felt strongly that if I did not do something to help these students advance academically and socially they might never have the chance to really fulfill their dreams. That inspired me to start this scholarship. I grew up in a world of the haves and the have-nots – the differences can be striking."
Schlater admits that he almost lost his way during his high school years, but didn't, thanks to family support – especially support from his father. Schlater now has over 20 years of experience in the financial services industry serving both institutional and high-net worth individuals.
According to Schlater, "There are many scholarships and foundations that are doing great things for inner-city youths. However, as we have witnessed over many, many years, the problems and hurdles that men and boys of color face are huge and require special attention with a very specific focus. I want to help young men get an education and get away from the cycle of difficulty."
"To help boys like James the cost is very small. A very small amount of money can change someone's world," said School of Business Professor Mahmud Wazihullah who is collaborating with Schlater on the project. The scholarship, set up by Schlater, is funded by him for two years. Schlater and the College are now looking for additional contributions.
"This is the start of a process – there is a feel of satisfaction but not accomplishment," said Schlater. "There are still many other boys and men out there that need help."
About Mercy College
Founded in 1950, Mercy College is a private, not-for-profit higher education institution that offers more than 90 undergraduate and graduate degree and certificate programs within five prestigious schools: Business, Education, Health and Natural Sciences, Liberal Arts and Social and Behavioral Sciences. Mercy College offers an engaging and personalized learning experience that includes the College's revolutionary Personalized Achievement Contract (PACT) program. The Mercy College PACT is the first program of its kind and now serves as a nationally recognized model for mentoring. http://www.mercy.edu/ 877-MERCY-GO.
###