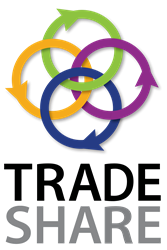 "With the advent of TradeShare, we are inserting our 'Ditto Molecule' into the trading genome of the futures and FX markets, continuing our push to interconnect investors across many different firms and across all asset classes," concluded Fox.
Chicago, IL (PRWEB) July 29, 2015
SoVesTech, a leading developer of social investment technology, today announced the launch of the broker-agnostic TradeShare mobile app. SoVesTech has partnered with CQG, a leading provider of high-performance trade routing and global market data, who provides market connectivity for the app.
TradeShare is the first Robo-Advising app that allows investors around the world to leverage the expertise of experienced futures and FX traders (Lead Traders). Through TradeShare, investors (Followers) are sent an instant push notification when someone they are connected to (a Lead Trader) places a trade. The alert includes a streaming real-time quote and the ability to place the same trade instantly with the push of a button.
The TradeShare app is immediately available to CQG's FCM partners worldwide. The TradeShare app can connect Lead Traders and Followers from any of the top brokerage and futures/forex firms.
The technology is designed so that a customer of a futures firm on any continent can receive an Actionable Trade Alert on their mobile device in less than one second after a Lead Trader at a different firm on a different continent places their trade. The Follower can then choose to ignore, modify, or place the trade.
The TradeShare app provides the following functionality:

Search for futures & FX Lead Traders
Follow a chosen Lead Trader
Instantly trade off of an Actionable Trade Alert
Become a Lead Trader
Existing CQG users can view account information and make trades
Who can be a Lead Trader?

Professional trader
Friend or family member
Commodities Trading Advisor (CTA)
Newsletter/Trading Service
Trusted Advisor
"SoVesTech is a natural partner for us," said Mike Glista, CQG's Director of Trade Routing. "We are always looking to provide the latest in cutting-edge technology to our FCM and API partners. TradeShare connects our global user base, as well as other futures and FX traders. TradeShare has the potential to impact the futures and FX markets significantly."
"We are very excited to be teaming up with CQG on the TradeShare app," said Joseph Fox, CEO of SoVesTech, Inc. "I for one have traded millions of shares of stock and equity option contracts. But I have never traded a futures or FX contract such as Gold, Oil or the U.S. Dollar. TradeShare opens up the futures and FX markets to the majority of Americans who have never invested outside of the stock and options markets," continued Fox. "With the capability to bring millions of futures and forex investors off the sidelines, TradeShare has the potential to democratize the markets worldwide."
Over the next few months, SoVesTech and CQG will be expanding TradeShare's capabilities to allow customers to participate in the actual trade of a Lead Trader. This technology is similar to what is currently available on DittoTrade.com for equities and options trading.
"With the advent of TradeShare, we are inserting our 'Ditto Molecule' into the trading genome of the futures and FX markets, continuing our push to interconnect investors across many different firms and across all asset classes," concluded Fox.
Download TradeShare from ITunes
Download TradeShare from Google Play
About SoVesTech:
SoVesTech is an innovative financial technology company whose proprietary platforms uniquely enable users to leverage the experience and abilities of others in real time. SoVesTech's technology scales across a wide range of investors, as well as partners looking for growth in client assets, trades and revenue. SoVesTech is the parent company of Ditto Trade, Inc., a next generation robo-investing firm and the only online broker to allow individuals to participate in the actual trades of others. Since the Company's launch in 2010, customers have Ditto'ed nearly one million trades of friends, family members, professional traders, Investment Advisors, alert/trading services and newsletters. Ditto Trade is a member of FINRA and SIPC and is a licensed broker-dealer in all 50 states.
About CQG:
CQG (http://www.cqg.com) provides high-performance trade routing, global market data, and advanced technical analysis. CQG partners with more than one hundred Futures Commission Merchant environments and provides Direct Market Access to more than forty exchanges through its global network of co-located Hosted Exchange Gateways. CQG's server-side order management tools for spreading, market aggregation, and smart orders are unsurpassed for speed and ease-of-use. CQG's market data feed consolidates more than seventy-five sources, including exchanges worldwide for futures, options, fixed income, foreign exchange, and equities as well as data on debt securities, industry reports, and financial indices. CQG has received the Prop Traders' ISV of the Year award from FOW and the Best Technical Analysis Platform award from The Technical Analyst. CQG is headquartered in Denver, Colorado with sales and support offices worldwide.