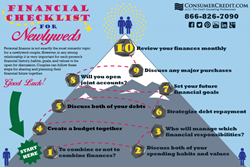 Communication is key in any marriage, and especially when it comes to managing finances.
Boston, MA (PRWEB) July 30, 2015
When it comes to marriage, many couples often fail to look past the wedding day and the planning involved in living a happy marriage. The biggest issue is that more often than not, couples neglect to discuss their finances, financial philosophies, debt they may be bringing into the marriage, previous budgeting experiences and financial goals for the future prior to the big day. That's why national nonprofit American Consumer Credit Counseling is offering a financial checklist for newlyweds.
Finance remains a leading cause of stress in relationships, according to a recent study by SunTrust Bank. A Citibank survey revealed that 57 percent of divorced couples cited money problems as the primary reason for the demise of their marriage.
"It's no secret that many couples argue about money, and it should come as no surprise that financial issues are also the cause of most divorces," said Steve Trumble, President and CEO of American Consumer Credit Counseling. "Communication is key in any marriage, and especially when it comes to managing finances. Couples should take the time to discuss key financial issues, challenges and goals as early as possible in the relationship, so that there are no surprises when it comes to creating a strong financial future together."
To help newlyweds through this far from romantic topic, American Consumer Credit Counseling has created a financial checklist of key personal finance topics to discuss with your significant other.
1. Decide whether to combine or not combine finances. Once you tie the knot, you need to discuss how you will pay your bills. Talk about whether you will open a joint account and how you will pay your bills together.
2. Discuss both of your spending habits and values. Are there problem areas one of you needs to work on? Are either of you a master at Excel spreadsheets? Start writing down every penny that comes in and out of your life and track where your money is going. This will help you decide where you could both cut back on unnecessary expenses.
3. Decide who will manage which financial responsibilities. Between the mortgage/rent, cell phone bill and utilities, there could be many payments that need to be accounted for. Have a conversation about who will manage each of your expenses.
4. Create a budget together. If you have a new home or have plans to purchase a new home, a combined budget will be necessary to keep track of your spending.
5. Discuss both of your debts. It's best to be up front about credit card debt and student loans. Once you have this discussion, you can find the best solutions for your debts.
6. Strategize debt repayment. Decide which debts are more pertinent based on interest rate and amount.
7. Set your future financial goals. Will you relocate? Is there a baby in your future? Actually sit down and create a list of your goals. Future plans need to be shared and included in a financial plan.
8. Figure out if you will open joint accounts. Many couples decide to open a joint account but keep their primary accounts separate. If you open a joint account, decide how you will manage it together.
9. Discuss any major purchases. Depending on the budget, many couples discuss prior to a purchase that is anything more than $200. If you plan on buying something expensive, talk about it with your partner. Making a major purchase without your partners' consent could cause an argument.
10. Review your finances monthly. Variables in life change every so often, it's important to have your budget reflect those changes. Always review your finances and make sure you are able to pay your bills on time.
ACCC is a 501(c)3 organization that provides free credit counseling, bankruptcy counseling, and housing counseling to consumers nationwide in need of financial literacy education and money management. For more information, contact ACCC:

For credit counseling, call 800-769-3571
For bankruptcy counseling, call 866-826-6924
For housing counseling, call 866-826-7180
Or visit us online at ConsumerCredit.com
About American Consumer Credit Counseling
American Consumer Credit Counseling (ACCC) is a nonprofit credit counseling 501(c)(3) organization dedicated to empowering consumers to achieve financial management and debt relief through education, credit counseling, and debt management solutions. ACCC provides individuals with practical debt solutions for solving financial problems and recognizes that consumers' financial difficulties are often not the result of poor spending habits, but more frequently from extenuating circumstances beyond their control. As one of the nation's leading providers of financial education and credit counseling services, ACCC's certified credit advisors work with consumers to help them determine the best plan of action to get out of debt and regain financial stability. ACCC holds an A+ rating with the Better Business Bureau and is a member of the Association of Independent Consumer Credit Counseling Agencies. For more information or to access free financial education resources, log on to ConsumerCredit.com or visit TalkingCentsBlog.com.