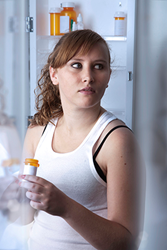 Abuse of pain medications may start when a person takes them for chronic pain. It can get out of control. Over time, people develop a tolerance which may prompt them to increase their dosages," Cynthia Miles, Clinical Supervisor, Gateway Treatment Centers
Carbondale, IL (PRWEB) July 30, 2015
Prescription drug abuse is a growing trend. Following marijuana and alcohol, prescription and over-the-counter drugs have become the most commonly abused substances by Americans 14 and older, according to the National Institutes of Health (NIH).
The process of becoming dependent on prescription drugs can begin easily and often, innocently. "Sometimes, people don't finish their medication and might give it away to others who appear to need it, or the person's children or other family members may come across it," explains Carl Scroggins, Overdose Prevention Programs Supervisor at Gateway.
These drugs are often perceived as safer than illicit drugs but, when abused, pose serious health risks including overdose. The National Institute on Drug Abuse (NIDA) found that more people die from prescription opioid overdose than all other drugs combined.
"Abuse of pain medications may start when a person takes them for an injury or medical condition that causes chronic pain. It can get out of control. Over time, people develop a tolerance level to opiates which often prompts them to increase their dosages," says Cynthia Miles, LCSW, Clinical Supervisor, Gateway Alcohol & Drug Treatment Centers.
Safeguard Prescription Drugs
It is important to safeguard and keep track of prescription drugs. Following are steps that can be taken to limit access to prescription drugs:

Safeguard all drugs at home, including over-the-counter medicines. Conceal, monitor quantities and control access.
Set clear rules for teens about all drug use, including not sharing medicine and always following the medical provider's advice and dosages.
Be a good role model by following these same rules with any medications.
Ask friends and family to safeguard any prescription drugs as well.
Properly dispose of old or unused medicines.
Alternatives to Managing Pain
Gateway Alcohol & Drug Treatment's H.O.P.E. program is a voluntary program designed to help people find alternatives to taking pain medications and/or narcotics. The program name acronym stands for Healthy Options to Treat Pain Effectively. Offered at the Gateway Treatment Center in Carbondale, Illinois, the H.O.P.E. program educates attendees on ways to take a more holistic approach to their health.
Provided in a group format, the program's goals include helping people gain an understanding of their pain, and how to identify the ways in which it goes further than the physical sensations to include emotional pain and cognitive disorders. Once people can identify this, they can use this knowledge to begin to alter their thinking.
Participants learn how to use techniques designed to improve their emotional pain, which should in turn help to decrease the perception of physical pain. Daily grounding and coping skills are practiced, which are ideally, performed even when a person's pain level is not high. By being consistent, a life change that is conducive to self-awareness and pain management is reinforced.
About Gateway Alcohol & Drug Treatment Centers
Gateway Alcohol & Drug Treatment Centers provide substance abuse treatment services for teens and adults at drug treatment centers throughout Illinois and the St. Louis Metro East area. Gateway's outpatient and inpatient treatment centers are licensed by the state of Illinois and accredited by The Joint Commission. Each year, Gateway's professional clinicians help thousands of individual's successfully complete treatment.
Learn more about treatment options, insurance coverage and Gateway's free, confidential consultation. Call (800) 971-4673.