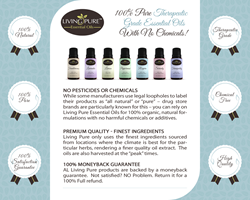 With considerable effort, we have developed the highest-quality oils in the industry, which we are bringing to consumers at prices that are simply the best available at this grade
Grand Rapids, MI (PRWEB) July 31, 2015
A family-run business in Grand Rapids, MI, Living Pure Essential Oils are 100% organic, natural, therapeutic-grade oils from ingredients sourced all over the world, then manufactured into specific formulations in northern Michigan. Company founder, Ashley Eilers, explains that "With considerable effort, we have developed the highest-quality oils in the industry, which we are bringing to consumers at prices that are simply the best available at this grade."
The launch features seven oils, which can be used for aromatic, healing and hygienic purposes. The 100% organic formulations include no harmful chemicals or additives, and are Pure Therapeutic Grade.
The product line includes three proprietary blends:
Serenity, a stress-relief blend that provides a sense of oasis
Tranquility, a non-addictive sleep aid for those with insomnia or anxiety
Respire, a blend that combats congestion from cold, flu, allergies and sinus issues
And four pure essentials:
Lemon Oil, nature's antimicrobial agent that quenches thirst, freshens laundry and aids with weight loss, among many other benefits
Frankincense, for healthy skin, reduced inflammation and overall well-being
Lavender, to relax the body, settle a stomach, or freshen a room
Peppermint Oil, to relieve tension, aid the immune system, strengthen focus and provide fresh breath
Living Pure Essential Oils offers two introductory promotions: Free shipping within the U.S. on all orders; and "Buy two, get a third free," which applies to the entire product line. Orders can be placed online at the company website, http://www.LivingPureEssentialOils.com, or at Amazon.com. All orders are backed by a 100% satisfaction guarantee.
About Living Pure Essential Oils: Founded in 2015, the company promises the finest, 100% organic, therapeutic-grade essential oils on the market. These oils bridge the gap between ancient high-apothecary and modern herbalism/aromatherapy. The company is located in Grand Rapids, MI; its base oils are sourced locally in Northern Michigan and blended with ingredients that are imported from around the world. Living Pure Essential Oils' principal focus is product quality and customer satisfaction.