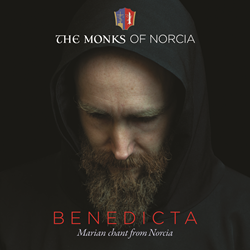 "Beginning with the ringing of the monastery bells this CD brims with spirit and atmosphere. (Four stars)"
New York, NY (PRWEB) July 29, 2015
"It is both pleasing to the ears…and satisfying to the spirit. Put it on while driving through LA traffic and see how it can improve your commute!" - Culture Spot LA
Listen to NPR's Weekend Edition Featuring a Moving Interview with Fr. Cassian Folsom
Watch CBS Newspath
After seven consecutive weeks as Billboard's #1 Classical Traditional Album BENEDICTA: Marian Chant from Norcia miraculously continues to captivate a wide range of consumers, besting the likes of superstar talent such as Andrea Bocelli and garnering critical acclaim from diverse corners of the media. All About Jazz praised the Monks' "music of simplicity and warmth", while the International Review of Music declares that "Benedicta…seems to echo down the ages…beauty so rich and full is not to be discounted."
The Washington Post reported on The Monks' appeal, stating "churches may be in decline, but Gregorian chant beats secular competition." To read the story click HERE. And on August 3rd SiriusXM's Symphony Hall Channel will feature an interview with Fr. Cassian Folsom - Prior of the Monks of Norica –that will also be syndicated on the national radio program, Millennium of Music. The Buffalo News gave 'Benedicta' a glowing four star review.
Chicago's premiere classical radio station WFMT selected 'Benedicta' as its New Release of the Week and also just aired an insightful interview with Fr. Cassian. Click here to listen: WFMT Fr Cassian Story .
Audiophile Audition affirmed BENEDICTA as being "nicely recorded… done with love and—yes—talent."
Additionally, a broad spectrum of faith-based media has also covered the inspiring story and music of the monks.
The Monks of Norcia's success has continued to hold strong following their #1 debut week, where they also bested superstar recording artists such as Taylor Swift and Willie Nelson as the #1 Best-seller at Barnes & Noble, #2 Overall Best-seller at Amazon.com and Top 40 on iTunes' overall chart respectively. BENEDICTA continued to reign as #1 Best-seller overall at Barnes & Noble and #1 overall Classical title Amazon.com. BENEDICTA is available now on De Montfort Music & Decca Records/Universal Music Classics.
The moving music of BENEDICTA was recorded by a group of 18 men; half American citizens and half representing a variety of cultural backgrounds who collectively are heralded as one of the most authentic active singing communities of Gregorian chant today.
In addition to the monks daily monastic life devoted to prayer and music, they also strive to communicate their vision of life by way of "earthly experiences." To that end, The Monks of Norcia operate a craft brewery at the monastery, Birra Nursia, where they produce brews that have gained devotees from distant countries, bringing new visitors to Norcia, adding to their compelling backstory in an unexpected way.