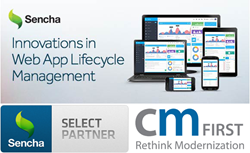 "More success stories are coming," said Rhodes. "The combination of CM WebClient for CA Plex, CA 2E, native IBM i RPG and COBOL apps, and Sencha makes legacy modernization possible for so many."
Austin, TX (PRWEB) July 31, 2015
CM First's technology partner, Sencha, has just announced an integrated platform for web application lifecycle management, including key components to make web and mobile device deployment easier. https://www.sencha.com/web-application-lifecycle-management-sencha-platform/
Using either native HTML5/JavaScript application development or with CM WebClient for CA Plex (http://www.cmfirstgroup.com/products/cmwebclient/), developers will significantly increase the speed and ease of app deployment, meeting challenging customer demands and giving companies a competitive edge.
The goal of the Sencha's Web Application Management Platform is to simplify web application lifecycle management, making design, development, deployment and management easier, quicker and more reliable so companies can provide a great customer experience across all desktops and devices.
In addition to the Web Application Management announcement, Sencha also announced released significant new capabilities, pricing and packaging for Ext JS 6. Ext JS 6 is now a single JavaScript framework for building cross-platform applications, with legacy, new browsers, and devices supported. A near real-time theme generation feature called Fashion is included, so developers won't need to rely on Ruby and Compass. App Templates provide 'starter apps' designed to highlight best practice architecture and code development. The Platform is integrated and modular to allow customers to tailor the solution to individual needs.
Web Application Manager 6 is designed to ensure rapid deployment without native packaging and app store submission. App reporting helps companies understand uptake of new apps and event capture provides insight for application optimization. Device security features are included, ensuring that critical data is encrypted on devices. New pricing and packaging is also included, and apps need not be developed in Sencha to benefit from the new framework – any HTML5/JavaScript and Hybrid App can benefit.
The Select partnership level CM First has with Sencha has already yielded powerful results for customers.
"A number of our clients have expressed interest in the Sencha's forward thinking solutions," said John Rhodes, CTO. "Sencha has a complete framework for ensuring successful and rapid development and deployment of mobile and desktop apps."
Developers using this combined solution have been willing to speak at conferences and be interviewed for success stories. Developers charged with the requirement to rapidly deliver mobile versions of legacy applications faced quite a challenge, until this solution became available. Read about the United Heritage story at: http://www.cmfirstgroup.com/wp-content/uploads/2013/08/United-Heritage-Success-Story-final.pdf Learn about how Hapimag made travel easier at: http://www.cmfirstgroup.com/wp-content/uploads/2013/10/Hapimag-Customer-Success-Story.pdf
"More success stories are coming," said Rhodes. "The combination of CM WebClient for CA Plex, CA 2E, native IBM i RPG and COBOL apps, and Sencha makes legacy modernization possible for so many."
About CM First Group
CM First is a global software and services company with focus on application modernization, custom development of enterprise applications that support high-performing, and agile development teams in three key areas: Application Modernization for IBM Environments, Custom Application Development Architected and Agile, Tools and Technology for Future Development.
Contacts
Europe Headquarters
+41 41 508 01 05
info(AT)cmfirstgroup.com
Americas Headquarters
+1-512-418-9802
infotech(AT)cmfirstgroup.com
France
+33 608 504 285
infofrance(AT)cmfirstgroup.com