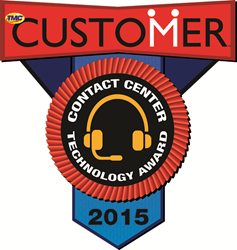 AireContact is able to deliver the omni-channel coverage, security, and reliable voice quality that businesses need to support their customers, all from a single vendor.
LOS ANGELES, CA (PRWEB) July 30, 2015
AireSpring announced today that TMC, a global, integrated media company, has named the AireContact cloud contact center software as a 2015 CUSTOMER Contact Center Technology Award winner presented by CUSTOMER magazine.
AireContact is a comprehensive omni-channel solution that enables companies to more effectively manage inbound, outbound, and blended contact center services across all channels of communications. Enhanced features, such as predictive dialer, dynamic scripting, and social media customer care, give AireContact a unique position in the highly competitive cloud contact center software category. All interactions, from inbound and outbound voice calls to emails, chats, texts, social feeds (e.g. Twitter, Facebook, and LinkedIn), faxes, and web call backs are streamed into a multimedia blended queue available on a fully managed end-to-end, private connection for security, QoS and exceptional voice quality.
"Delivering a positive customer experience is the top priority for contact centers and AireContact provides them with the tools they need to reach this goal," said Daniel Lonstein, Chief Operating Officer, AireSpring. "By combining next generation software capabilities with the award-winning AireSpring MPLS and managed IP network, AireContact is able to deliver the omni-channel coverage, security, and reliable voice quality that businesses need to support their customers, all from a single vendor."
AireContact takes advantage of AireSpring's incredibly powerful MPLS Mesh™ network, which merges multiple top tier carriers to provide a resilient high performance network with over 350 Points of Presence (POPs) to deliver the largest nationwide footprint available. Fully managed connectivity, end-to-end quality of service (QoS) and support, and 24/7 Service level Agreement (SLA) guarantees enable flexible, feature-rich capabilities with consistent voice quality for a highly reliable and secure solution.
"Congratulations to AireSpring for being awarded a 2015 CUSTOMER Contact Center Technology Award. AireContact has been selected for demonstrating innovation, quality and unique features which have had a positive impact on the customer experience," said Rich Tehrani, CEO, TMC. "We're pleased to recognize this achievement."
This tenth-annual Contact Center Technology Award, presented by CUSTOMER Magazine, honors vendors that have embraced technology as a key tool for customer service excellence. This award distinguishes their success as innovators, thought leaders, and market movers in the contact center and customer care industries.
Results of the 2015 CUSTOMER Contact Center Technology Award will be published in the July/August edition of CUSTOMER Magazine.
About AireSpring
Headquartered in Los Angeles, AireSpring is an award-winning provider of Managed Connectivity and Cloud Communications solutions serving thousands of businesses nationwide. AireSpring provides fully managed and connected end-to-end, next-generation solutions for multi-location enterprise customers, including Cloud Contact Center, Cloud Business Phone Systems, SIP Trunking, MPLS, and Internet. AireSpring's solutions are offered through a diversified network of channel partners that includes distributors, master agents, managed service providers, and value added resellers. AireSpring's services are delivered over its revolutionary nationwide MPLS Mesh network, providing customers a fully integrated, end-to-end solution from a single vendor.
AireSpring has received numerous industry awards for "Product of the Year," "Best Telecom Deal," "Best in Show," and "Top Channel Program." AireSpring is privately held, diversified, debt-free, and renowned in the industry for delivering a broad range of innovative solutions at competitive rates. To find product information or to become an AireSpring partner, please visit http://www.airespring.com or contact us at 888-389-2899.
About CUSTOMER
Since 1982, CUSTOMER magazine (formerly Customer Interaction Solutions) has been the voice of the call/contact center, CRM and teleservices industries. CUSTOMER has helped the industry germinate, grow, mature and prosper, and has served as the leading publication in helping these industries that have had such a positive impact on the world economy to continue to thrive. Through a combination of outstanding and cutting-edge original editorial, industry voices, in-depth lab reviews and the recognition of the innovative leaders in management and technology through our highly valued awards, CUSTOMER strives to continue to be the publication that holds the quality bar high for the industry. Please visit http://www.customer.tmcnet.com.
For more information about TMC, visit http://www.tmcnet.com.
AireSpring Contact:
Ellen Cahill
Sr. VP Marketing
818-786-8990, ext. 374
ellen(dot)cahill(at)airespring(dot)com
CUSTOMER/TMC Contact:
Rebecca Conyngham
Marketing Manager
203-852-6800, ext. 287
rconyngham(at)tmcnet(dot)com