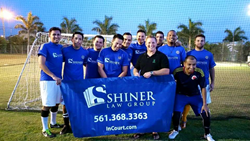 Shiner Law Group is dedicated to helping create a more healthy, connected and enjoyable community for all of us to share. - David Shiner, President
Boca Raton, FL (PRWEB) July 30, 2015
Shiner Law Group, a personal injury law firm with offices in Boca Raton, Boynton Beach and Lake Worth Florida, is pleased to announce that its men's soccer team won the Rama V Men's League Championship playoff on July 7. The playoff series was held at The Soccer Hub in West Palm Beach, Fla.
The Shiner Law Group FC team advanced to the finals by amassing a total of 15 points against a field of eight teams.
"Shiner Law Group is dedicated to helping create a more healthy, connected and enjoyable community for all of us to share," said David I. Shiner. "The men's soccer team is one of many community-minded initiatives we support in pursuit of that goal, and we were excited to bring home the championship. "
For more information on Shiner Law Group, please visit http://www.incourt.com, or call 561-777-7700. You can also learn more about the firm on their Facebook page.
About Shiner Law Group
Shiner Law Group specializes in civil litigation and trial work, with an emphasis on personal injury law and complex business litigation. The Boca Raton-based firm serves all of Florida, including Boca Raton, Boynton Beach, Fort Lauderdale, Deerfield Beach, Delray Beach, Miami, Orlando, Tampa and surrounding communities.
Shiner Law Group attorneys are focused on helping each client find justice after car and motorcycle accidents, falls and other injury accidents. Confidential, free consultations are available by calling 561-777-7700. Learn more about Shiner Law Group at http://www.incourt.com.