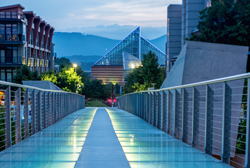 Top Places to Live in Tennessee for Outdoor Sports & Recreation
Chattanooga, Tennessee (PRWEB) July 31, 2015
Outside Magazine has named Chattanooga, Tennessee, the 2015 Best Town Ever once again. This is great news to Real Estate Scorecard's clients relocating to Tennessee. More than 50 percent of respondents to the Outside Magazine's poll agreed that the Scenic City of Chattanooga is the best place to live centered around outdoor sports and Real Estate Scorecard couldn't agree more. From mountain tops views to underground cavern tours, Chattanooga is chock full of fun things to do 365 days a year that will keep the family busy from sun up to sun down. The Tennessee River weaves beautifully around and through the heart of the city.
For those exploring Chattanooga for the first time, a great place to start is with a 'scenic view' of the city from some of the state's highest peaks. Nearby, head on underground to visit to the town's 145 foot underground waterfall. Ruby Falls remains one of the best tourist attractions for more than 80 years and is what most folks recall about Chattanooga, but there's so much more. The history behind how this city beneath a city was found will astound.
Chattanooga is a haven for families, retirees and adventurous sports fanatics. With so many attractions in Chattanooga, it's a town worth exploring for retirement. Chattanooga's mountainous terrain is perfect for hiking, biking, and rock climbing. One of the best places to watch rock climbing is at Castle Rock. Beginners can train at High Point Climbing & Fitness center on Broad Street in downtown Chattanooga.
With nearby Signal Mountain, Lookout Mountain and Raccoon Mountain to choose from, it may be tough choosing between which mountain to play in or on. Exciting hikes include trails around Nickajack Lake, at Soddy Creek Gorge and Falling Water Falls Natural Area. Chattanooga's mountains are among the top reasons given by folks contemplating relocating to Tennessee.
Another fun way to learn about Chattanooga is from a riverboat. Dine, dance and be entertained while cruising down the Tennessee River viewing the Northshore or downtown. As the big wheels keep on turning, the fun keeps on rolling on the river. Some locals call it the 'Tennessee Grand Canyon' with granite walls and forest on both sides of the river. Residents of Chattanooga's waterfront retirement communities treasure all the river has to offer including the latest craze of SUP paddle boarding. Thrill seekers can dial up the fun by white-water rafting in Ocoee or hand-gliding off Lookout Mountain.
Over the past 10 years, Chattanooga has grown substantially. The city provides a free electric shuttle in downtown making it easy to get around. The Chattanooga Farmer's Market every Sunday has over 200 vendors and is one of the finest we've seen. Easy to find at the market, edible flowers, sweet pastries, organic fruits and vegetables and teas.
The Walnut Street Bridge over the Tennessee River is one of the largest pedestrian bridges in the world built in the late 1800's. It's the place to take a night time stroll over the bridge and watch the city lights sparkle. There are dozens of restaurants, shops and museums to explore on both sides of the bridge. Cool annual festivals in Chattanooga include:
4 Bridges Art Festival
Nightfall Concert Series (May-Sept)
Riverbend, 9 day music festival
3 Sisters Bluegrass Festival
Head of the Hooch Rowing Regatta
New Year's Eve events downtown​
Some of the toughest fitness events take place in the Scenic City:
Sunbelt Bakery IRONMAN 70.3 ChattanoogaTriathlon
Little Debbie IRONMAN Chattanooga Triathlon
Rock/Creek Stump/Jump 50K
3 State 3 Mountain Challenge
Howl at the Moon 5K
With so much to see and do in Chattanooga, it's no wonder Baby Boomers call Chattanooga's waterfront retirement communities home. Whether folks are looking for modern amenities or old southern charm, they can find it in the homes in Chattanooga, TN.
Chattanooga has four distinct seasons. Temperatures in the winter average in the 50's and 80's in the summer. The summer may be winding down but the good times in the "Best Town Ever" aren't. Come visit the Scenic City and discover why it's a great place live at retirement.
About Real Estate Scorecard:
Real Estate Scorecard writes unbiased real estate reviews providing in-depth information about popular gated communities in Florida, Georgia, North Carolina, South Carolina and Tennessee, all in an effort to help people discover where to retire in the Southeast.
Website: http://realestatescorecard.com