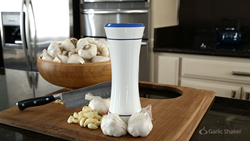 "The secret is simple physics. Inside are spiral rings that vibrate the garlic before it hits each end popping off the skin," Ramos said.
SAN DIEGO, California (PRWEB) August 05, 2015
Garlic Shaker Inc., a startup, announced today the launch of the Garlic Shaker®, a kitchen gadget that peels garlic skin off an entire head in seconds. It is now available for pre-sale through a Kickstarter campaign. To see the Garlic Shaker in action, watch the video here on: Kickstarter
To fund the production of this uniquely designed, time, and aggravation saving, garlic peeler "The Shake it Up" campaign will run from August 4th - September 21st, 2015.
KICKSTARTER CAMPAIGN
By backing early through Kickstarter, customers receive rewards and discounts the general public will not receive. There is a $15 Early Bird special for the first 150 backers which is $10 off the full retail price. The $50, $75, $100 and $150 levels receive big price discounts for gift boxes.
Higher backer levels receive exclusive autographed rewards, professional cooking lessons, and get to privately dine with "Survivor" TV celebrity Jerri Manthey on a delicious gourmet meal cooked by Chef Joran "Dutch" Bouwman. A European master chef that has delighted palettes for over twenty years in distinguished kitchens at the Four Seasons and Hyatt.
All rewards levels receive a full color garlic E-cookbook with over 125 exclusive recipes, including a signature recipe Chef Joran.
HOW IT WORKS
Before, chefs and home cooks had to use slow, inefficient, unhealthy, smelly and dangerous methods to peel garlic, but now with the Garlic Shaker® you simply break apart an entire head of garlic, separate the cloves, and put them into the Garlic Shaker. Close it. Shake it up for 10-30 seconds, and bam! An entire head of garlic is peeled and ready for roasting, grilling or sautéing.
"The secret is simple physics. Inside are spiral rings that vibrate the garlic before it hits each end popping off the skin without damaging or bruising any of the tender morsels inside," said Ramos.
Garlic Shaker has two lids, one on each end, for easy cleaning by hand or on the top rack of the dishwasher. Its hour-glass shaped elegant design is as functional, as it is aesthetically pleasing. It is fast becoming the next must-have device for commercial and consumer kitchens.
"We think our modestly-priced garlic peeler looks more like a device designed by Apple than a standard kitchen gadget. We are changing the way people peel garlic by Shaking it Up," said co-founder Matthew Ramos, a former music business executive who's worked with many national recording artists.
"Cooks have disliked peeling garlic forever. Garlic Shaker turns the tedious task of hand peeling garlic into a fun and playful activity," said co-founder Adam Wagner, former event designer for Apple and art director for MTV.
Designed for home cooks as well as professional chefs, Garlic Shaker takes the drudgery out of garlic peeling -- whether one clove or dozens -- quickly and easily.
"It's functional with no distracting gimmicks," Ramos said. "We've conducted numerous tests on weight, durability and maneuverability to ensure it exceeds customers' expectations for how to get peeled garlic safely and fast."
Garlic Shaker is artistically crafted in five designer shades of red, white, blue, black and silver.
Garlic Shaker is 9-inches high, 3.5-inches long, and 3 inches wide. It weighs 9 ounces. It has a patent-pending ergonomic design with multiple impact points to remove garlic skins.
CELEBRITY ENDORSEMENTS
"Garlic Shaker is like meeting a new friend and wondering how you ever got along without them," said celebrity Chef Alan Lake who has cooked for Bono, George Harrison and Madonna.
"What a stunning-looking garlic peeler. I've always disliked peeling garlic. Now I don't have to because I can just shake it!" Carlos Salomon, owner of Cosecha Café in Oakland. CA.
Garlic Shaker will be in the celebrity gift suite for the Oscars, Emmys and Grammys for 2016.
SALES AND MARKETING
According to Ramos and Wagner:

"People are really more excited than we expected they would be for a garlic-peeling machine." "We've had significant numbers of people write and call demanding we sell them a Garlic Shaker," says Ramos.
"22,000 people have signed up for a Garlic Shaker when it becomes available on Kickstarter," says Wagner
"We have more than 100,000 followers on social media actively engaging with us in advance of manufacturing," says Ramos.
They've been asked to sell Garlic Shaker on, Amazon, Wishbox, Touch of Modern, Price Falls, British GQ, and Publisher's Clearing House.
PRODUCTION AND DESIGN
"Garlic Shaker is 100% Made in America," states Ramos proudly.
The right pattern for optimizing the peeling action took three years and eight prototypes.
Eric Fairbanks, award-winning consumer product designer for Oakley and professor of design at ATE, engineered the Garlic Shaker.
Garlic Shaker is patent-pending for design, utility and in 90 foreign countries.
Garlic Shaker is Available Now!
ABOUT GARLIC SHAKER:
Founded in 2012 by Matthew Ramos and Adam Wagner, the company is headquartered in San Diego, and Los Angeles California. Both Ramos and Wagner invented the Garlic Shaker during a fishing trip in San Quentin, Mexico at a tequila bar in port on napkin. You can learn more about the company here at http://www.garlicshaker.com.
Contact:
Matthew Ramos
619-289-7458
Inquiries(at)garlicshaker(dot)com
http://garlicshaker.com