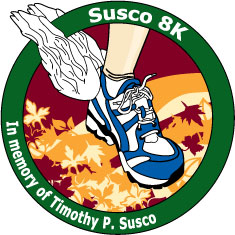 This Family friendly event is being held on September 19th in order to help increase brain aneurysm awareness and raise necessary funding for research.
Hanover, MA (PRWEB) July 30, 2015
Please join the 8th Annual Susco 8K Run & 2K Fun Run/Walk in Memory of Timothy P. Susco. This popular event will be held on Saturday, September 19, 2015 at South Lakes High School in Reston, Virginia.
This year, the event committee has partnered with Potomac River Running for online registration, which is now open and will continue to be until 8:00pm on Thursday, September 17th. All credit card registration payments must be made online.
Race packets may be picked up early by visiting the Conference Room C of West Wing Lobby at Reston Hospital Center, near the gift shop between the hours of 2pm and 7pm. Please note that only cash or check will be accepted for late registration.
Same-day registration is available. Pre-registered runners can pickup their race packets, t-shirt and race number at South Lakes High School on Saturday morning prior to the race start. Please note that we can only accept cash or check at onsite registration.
Both the 8K race and the 2K Walk/Fun Run will start and finish at South Lakes High School Stadium. The 8K Race will begin at 8:30am while the 2K Walk/Fun Run will kick off at 8:35am.
The fees to register vary depending on the race. All registrants receive a discounted registration rate when registering early, with details explained below:
8K:
Through September 8th: $30
From September 9th to September 18th: $35
Saturday September 19th: $40
2K:
Through September 18th: $20
Saturday September 19th: $25
This year the 8K will utilize the Chronotrack B tag timing system. The timing chip will be located on the back of your race bib. This eliminates the hassle of having to return chips at the finish line.
All runners in both races will receive a race shirt. However, only pre-registered racers are guaranteed this year's race shirt.
Please note that an awards ceremony will be held shortly after the last runner of the 8K finishes. There will also be an assortment of door prizes randomly drawn during the race.
For more information, please visit the event website by clicking here or visit susco8k.com
The Brain Aneurysm Foundation was established in 1994 in Boston, Massachusetts with a mission to promote early detection of brain aneurysms by providing knowledge and raising awareness of the signs, symptoms and risk factors; work with the medical communities to provide support networks for patients and families; as well as to further research that will improve patient outcomes and save lives. For more information about the Brain Aneurysm Foundation, visit http://www.bafound.org.