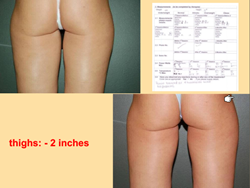 Their equipment is efficient, effective and loved by our patients.
(PRWEB) July 30, 2015
Precision Aesthetics was founded in 2007 with an exclusive focus on non-invasive procedures that approximate surgical results. Since that time Precision Aesthetics has performed thousands of radio frequency skin tightening procedures utilizing Exilis, a premiere radio frequency device by BTL industries, and Thermage, another popular radio frequency device. In fact Precision Aesthetics has been a Pinnacle and Black Diamond Thermage provider for every year since 2007. Precision Aesthetics was also the first to offer Exilis in New York. Although similar to Thermage, Exilis offers a more comfortable treatment and is more effective at non-surgical fat reduction as well as collagen remodeling. Many patients have embraced Exilis for skin tightening and non-surgical fat reduction. Precision Aesthetics also offers acoustic wave for cellulite and Carboxytherapy for stretch marks.
BTL's newest device is built upon the highly successful Exilis platform. Intima provides non-invasive labia remodeling. Tests have shown a scientifically proven improvement in appearance. 80% of tested subjects were evaluated to have a significant improvement in appearance. Of the 80% who were evaluated to have significant improvement half were moderate and half were excellent. The process works by remodeling the collagen. The focused thermal energy disrupts the collagen fibers and the natural healing process produces new collagen fibers.
The projected launch of this newest offering at Precision Aesthetics in New York will be some time in the 3rd Quarter of this year due to the logistics involved with the equipment and training. "With this latest device and all of its other offerings in the beauty space BTL Industries is quickly becoming one of our most trusted partners," remarked John Aslanian, practice manager of Precision Aesthetics. "Their equipment is efficient, effective and loved by our patients." For Exilis before and afters go here. For more on BTL Industries and all of their offerings visit them on the web
Precision Aesthetics is located at 10 West 74th St, steps off of Central Park West in a private boutique office. Our goal is to provide the best non-invasive solutions in the world in our New York space focused on patient privacy and comfort.