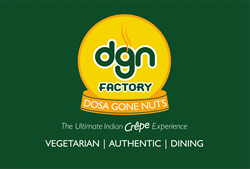 "Excendingly delicious Dosas" "Best dosa in Houston so far!!!" "Great Dosas! Genuine!"
Houston, TX (PRWEB) July 29, 2015
dgn Factory (previously known as the Dosa Factory) will open its restaurant in the downtown tunnel this summer, changing lunchtime in the city for the better.
With its third location slated to open in August, the popular Dosa chain aims to please with their modern spin on traditional Indian dishes. After the success of their Missouri City and Richmond Avenue locations, dgn Factory dives into the well-known downtown tunnel shops, where customers can enjoy a variety of delicacies on weekdays for breakfast, lunch or afternoon snacks. With dgn Factory's on-site and boxed lunch catering services, companies can provide delicious lunch alternatives for events, conferences and seminars and more.
Located in the heart of the tunnel at 1001 Fannin St., Suite M 110 and open from 7 a.m. -4 p.m. Monday through Friday, dgn Factory's extensive menu gives guests a chance to enjoy dosas, idlis and more at fair prices. Apart from various lunch options, masala chai, south-Indian-style filter coffee, samosas and upma are just a few of the breakfast and snack options that are sure to add an extra kick in one's step. Health-conscious individuals can indulge guilt-free, as dosas are low in calories, fat and are gluten-free.
To those less familiar with the dosa, dosas are fermented crepes made from rice batter and black lentils. A culinary classic, the dosa dates back to the 5th century A.D. In 2012, Huffington Post ranked the "Masala Dosa" amongst the "Top 10 Dishes in the World to try Before you Die."
"We are extremely excited to open our third location in the downtown tunnel, and we look forward to serving customers very soon," Co-Founder and CEO of dgn Factory Niraj Shah said. "With a different spin on 'typical' Indian-food options, we believe our cuisine will appeal to the masses, and what we offer is something that should definitely be tasted by all."
Founded in 2012, dgn Factory is a contemporary, fast-casual, 100 percent vegetarian, authentic South Indian restaurant that focuses primarily on dosas, idlis and vadas. For more information, please visit dgnfactory.com.
Facebook: https://www.facebook.com/dgnfactoryus
Twitter: https://www.twitter.com/dgn_factory
Pinterest: https://www.pinterest.com/dgnfactory/
Yelp: http://www.yelp.com/biz/dgn-factory-houston-3
Instagram: https://www.instagram.com/dgnfactory
Trip Advisor: http://www.tripadvisor.com/DGN_Factory
About the company:
Looking to satisfy cravings for Indian cuisine? Visit dgn Factory in Houston for a truly authentic experience and enjoy some of the most ancient dishes in the world. Established by Niraj Shah, co-owner of a successful, family-owned Indian restaurant, dgn Factory specializes in savory crepes called dosas. Shah took his experience selling freshly-made dosas in a food booth at the George R. Brown Convention Center and expanded the concept into a full-fledged restaurant where diners can learn about the history of their order while watching it being prepared.
As one of the best Indian restaurants in the area, dgn Factory stands out from the average establishment in quality, excellence, service and concept. Whether it is North Indian in Saag Paneer and Paneer Tikka Masala or Indo-Chinese in Chilli Paneer and Gobi Manchurian, customers will know all about their special dish by the time their experience at dgn Factory is over.
Locations:
1. dgn Factory,5959 Richmond Ave., Suite 160, Houston, TX 77057
Ph.713-781-DOSA (3672)
2. dgn Factory,6324 Highway 6, Missouri City, TX 77459
Ph.281-499-DOSA (3672)
3. dgn Factory, 1001 Fannin St, Suite M 110, Houston, TX 77002
Ph.832-301-3945