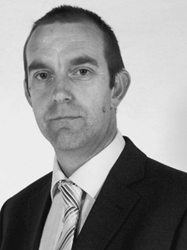 Eben Walker, General Manager of Graphite Metallizing says, 'His extensive experience in the pump and industrial markets will help our customers use GRAPHALLOY to achieve greater equipment reliability.'
Yonkers, NY (PRWEB) August 04, 2015
Graphite Metallizing Corporation, the manufacturer of self-lubricating GRAPHALLOY® bushing materials for pumps and process equipment, announces the appointment of Dennis Rawle as European Director of Sales. Rawle has over 25 years of experience in the marine and industrial industries. Most recently, he was General Manager and Technical Sales Manager for pump products at Exalto UK. Rawle will be responsible for coordinating sales and marketing activities for Graphite Metallizing in the UK and Europe and will be based out of the UK office.
"We are pleased to have Dennis join our team," stated Eben Walker, General Manager of Graphite Metallizing. "His extensive experience in the pump and industrial markets will help our customers use GRAPHALLOY to achieve greater equipment reliability."
Graphite Metallizing Corporation of Yonkers, NY has been solving tough bearing problems for over 100 years. The company began in 1913 when two engineers developed a method for putting molten metal into carbon to create a new material called GRAPHALLOY, a graphite/metal alloy.
Used in the manufacture of bushings, bearings and other components for machinery and process equipment, GRAPHALLOY can be the solution to the toughest bearing, bushing, thrust washer, cam follower, or pillow block bearing design problem. It is available in over 100 grades with specific properties that meet a wide range of engineering solutions and specifications. FDA accepted grades of GRAPHALLOY are available for use in food service equipment. NSF® International has certified two grades of GRAPHALLOY material for use in municipal well pumps and water treatment plant applications.
 
GRAPHALLOY bearings have operated for 20 years and longer in some applications. Standard designs are available but most GRAPHALLOY products are custom designed to the unique requirements of the specific application. Graphite Metallizing Corporation is ISO certified. For more information about Graphite Metallizing and its products, please visit us online at http://www.graphalloy.com or call 914-968-8400.