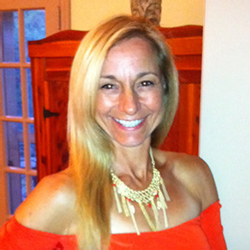 Hamptons New York (PRWEB) July 30, 2015
The Hamptons Summer Showcase Presented By Dr. Cindy Bressler and The Dog Store continues this week with an exhibit by Artist Donna Porter. Donna lives and works in Narberth, PA. She has a MFA from the University of Pennsylvania. During her undergraduate studies, she double majored in Fine Arts and Philosophy. Donna wrote her thesis in Aesthetics: Art: An Activity. She encourages her viewers to take an active role in viewing her work. Some of Donna's work has combined her love of nature with her fascination with reflections. Juxtaposing like images gives birth to beautiful new forms and rhythms within a work of art. Each person often makes personal connections and sees something different.
Donna has created an exhibit celebrating Dogs and The Hamptons. This exhibit is on display at The Dog Store in Wainscott from July 26-August 1. The exhibit is open to the public all week and will culminate with a reception celebrating her work on Saturday August 1 at The Dog Store 354 Montauk Highway Wainscott, NY 11975 from 6-8 pm. Donna is available for private pet portrait commissions.