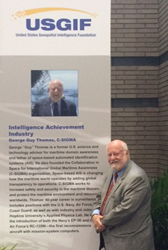 Doha, Qatar (PRWEB) July 29, 2015
One of the world's foremost experts on maritime surveillance has joined the distinguished panel of speakers at the Qatar Maritime Security - Coastal and Border Surveillance Conference (QMARSEC).
The third annual QMARSEC conference will take place on 28 October 2015 at the Ritz Carlton Hotel in Doha, Qatar under the theme "The Future of Automatic Identification System (AIS) Technologies and Deployments." This year's event will focus on all aspects of border and maritime security, with a special emphasis on the technologies, sensors, and identification systems that are a key component of border protection programs.
"I am pleased that Professor Guy Thomas will contribute his expertise to QMARSEC 2015," said Staff Brigadier (Pilot) General Mohammed Al-Mannai, Director of the National Shield Project of Qatar. "The distinguished career of Professor Thomas has spanned all aspects of maritime surveillance, from operator, to engineer, to inventor and developer."
Professor Thomas has held faculty positions at the Johns Hopkins University Applied Physics Laboratory and acted as the interface between that department and the Naval War College. He had held senior roles with various departments of the US government where he advised, managed, and executed a variety of national-level maritime surveillance programs. He conceived and managed the implementation of space-based AIS, creating the C-SIGMA concept to maximize the utility of this new, revolutionary capability. The US Geospatial Intelligence Foundation recently presented him their 2015 Individual Achievement Award (Industry) for these efforts.
Earlier in his career, he held operational roles within the US Navy on a variety of maritime surveillance platforms including ships, submarines, and aircraft. He led the operational tests for the Navy EP-3E surveillance aircraft as well as the acceptance tests of the USAF's RC-135W Rivet Joint III aircraft. "It is a privilege to join the distinguished panel of speakers at QMARSEC 2015," said Professor Thomas. "Never before have the challenges of maintaining border security been greater. The current operational environment of integrating land, sea, air, and space-based platforms to create secure borders is a tremendous challenge, and a tremendous opportunity as well."
The annual QMARSEC conference provides a forum that encourages information sharing and cooperation among military, government, industry and academic maritime security experts from around the world.
The conference encourages the development of joint endeavors, particularly new technologies, in order to deepen and enhance inter-agency cooperation and collaboration to mitigate future security threats.
For more information please visit the QMARSEC website at http://www.qmarsec.com/