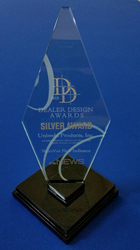 This award is affirmation that our efforts are appreciated by our end users.
Fort Lauderdale, Florida (PRWEB) July 30, 2015
Uniweld Products, Inc. proudly announces that he NitroVue™ Nitrogen Flow Indicator (Part# NV1) has earned the silver award for excellence in the hand tools category in the 2015 Dealer Design Awards, Sponsored by the NEWS, a well-known Air Conditioning, Heating and Refrigeration news magazine.
The NEWS is a weekly HVACR contractor news magazine that is distributed nationally to over 33,000 HVACR contractors, wholesalers, and industry professionals. Winning entries for the Dealer Design Awards were featured in The NEWS' July 20, 2015 weekly issue.
Uniweld Sales Executive, Matt Foster, stated, "Receiving the 2015 Dealer Design Award is a real honor and a testament to the work and attention to detail that went into the design and development of the NitroVue™ Nitrogen Flow Indicator. Uniweld always strives to produce new and innovative tools to improve the HVAC industry. This award is affirmation that our efforts are appreciated by our end users."
Uniweld's Nitrovue™ product review can be found on page 32 of the NEWS' article. To learn more about the NitroVue™ Flow Indicator by watching the company's informational product video, "Brazing with NV1 NitroVue™ & Cap'n Hook Tip".
The NV1, NitroVue™ Nitrogen Flow Indicator was designed with convenience and function in mind. This unique tool simplifies the purging of nitrogen during the brazing of copper tubing in Air Conditioning and Refrigeration systems with an easy to read flow indicator label and a precision adjustable valve to control the low flow of nitrogen gas. The bright orange float ball and tube are fortified and protected in the aluminum body with wide open windows for a clear view. The easy to see orange float ball visually confirms the nitrogen is flowing and allows the technician to first "PURGE" the copper lines at 20+ SCFH and then reduce the flow to "BRAZE" at 3-5 SCFH during the brazing process thus conserves its consumption and reduces operating cost. The technician must simply open the valve of the NitroVue™ until the float ball rises to the needed zone.
Individuals who are interested in learning more about or purchasing the NitroVue™ Nitrogen Flow Indicator the can also contact their local authorized Uniweld distributors and refer to Part# NV1 NitroVue™ Flow Indicator today!
Uniweld is a United States manufacturer located in Fort Lauderdale, Florida and employs over 300 workers who help design, manufacture and distribute U.S. made products to distributors, across the globe!
Uniweld Products… "Quality Tools That Go To Work With You!"