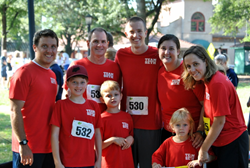 Raleigh, NC (PRWEB) July 30, 2015
Thousands of runners and walkers will gather this fall to show their support for individuals and families affected by autism in the Triangle, the Triad, and Western North Carolina.
The Autism Society of North Carolina (ASNC) is gearing up for its three biggest fundraisers of the year:

WNC Run/Walk for Autism: Sept. 12 at UNC-Asheville
http://www.wncrunwalkforautism.com

Greensboro Run/Walk for Autism: Sept. 26 at UNC-Greensboro
http://www.greensbororunwalkforautism.com

Triangle Run/Walk for Autism: Oct. 10 in downtown Raleigh
http://www.trianglerunwalkforautism.com
Last year, more than 5,000 people participated in the three fall Run/Walk for Autism events, raising more than $430,000 for North Carolina residents affected by autism.
The Centers for Disease Control and Prevention (CDC) estimates that as many as one out of every 68 children born today has some form of autism, and the incidence is one in 58 in North Carolina. Proceeds from the Run/Walk for Autism events stay in North Carolina, funding ASNC's local programs. ASNC is the leading statewide resource organization providing support for families and promoting opportunities for the more than 65,000 people in the state affected by ASD.
The events also give families a chance to celebrate autism awareness and acceptance with their communities during a day of fun with amusements for children, music, and refreshments. Vendor space at each event showcases local businesses, service providers, support resources, and sponsors.
For more information about the Run/Walk for Autism events, including how businesses can become sponsors and individuals can volunteer, please contact Heather Hargrave, Associate Director of Development, at hhargrave(at)autismsociety-nc(dot)org.
Background:

Autism Spectrum Disorder (ASD) is a lifelong developmental disability that typically appears during the first three years of life. As many as 1 in 58 children may be diagnosed with ASD in North Carolina, according to a prevalence study by the CDC study of 8-year-old schoolchildren.
For more than 45 years, the Autism Society of North Carolina has worked to address areas of need and expand services for the autism community in North Carolina. ASNC works to directly improve the lives of individuals affected by autism by providing advocacy, education, and services.
For more information, call 1-800-442-2762 or visit http://www.autismsociety-nc.org.