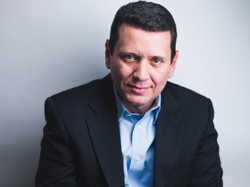 (PRWEB) July 30, 2015
Centric Digital announced the appointment of David Palmieri as its Chief Operating Officer. Palmieri will be accountable to scale the organization and processes to support the company's rapid growth and development.
"David is a true digital veteran and trusted leader with immense B2B products and services expertise. His experience leading high growth digital products and services companies makes him a perfect fit for our increasingly expanding business," said Jason Albanese, CEO and Co-Founder of Centric Digital.
In this newly created role, Palmieri will be responsible for day-to-day operations including client service, sales and human resources. He will also be working across the Centric Digital teams in productizing their current digital transformation services suite.
"Having spent most of my career leading digital transformation at traditional companies, I'm excited by the vision of Centric Digital. The opportunity to create products that will enable the company to deliver digital transformation and strategy solutions to a greater array of customers is significant, and I look forward to helping lead the company into its next phase of innovation and growth" said Palmieri, Chief Operation Officer.
"Now is the time for traditional businesses to revive their business strategy to lead in the digital age and David's success leading digital transformation within global enterprises will accelerate growth for our company and our clients," said Brian Manning, President and Co-Founder of Centric Digital.
Prior to joining Centric Digital, Palmieri was the Chief Executive Officer of US Legal, one of America's leading online consumer law brands. Before this, he spent three years at LexisNexis leading Martindale-Hubbell, a $180M legal marketing and information services company. While there he re-organized all aspects of the business including product development, marketing, operations, and finance to focus on the brand's core customer value proposition. Mr. Palmieri efforts led to LexisNexis developing and re-launching lawyers.com, a site that served three million unique visitors each month and grow 20% per year. Having started his career at Accenture, David's experience in digital is extensive and includes success in several Ecommerce brands with leadership roles at Barnes & Noble.com, Register.com, Mondera.com as well as senior executive roles in business to business product development at Dun & Bradstreet.
About Centric Digital
Centric Digital is the leading pure-play digital transformation partner that provides solutions to traditional businesses to revive their business models, rejuvenate their customer experience, and automate their business operations for the digital age. Global enterprises across health, finance, retail, and industrials rely on Centric Digital to interpret digital trends, benchmark their digital capabilities, create digital business strategies, and deliver digital and mobile experiences. For more information, visit http://www.centricdigital.com.