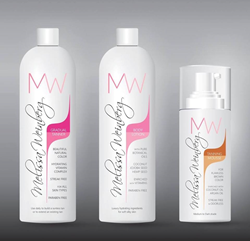 Experience Bronzing Perfection
Wellington, Florida (PRWEB) July 31, 2015
Say goodbye to smelly, orange, sticky self tanners and embarrassing streaking.
Salon and spa owners worldwide have turned to the outstanding quality of Perfect Glow Sunless to provide their clients with the best airbrush tan color. The professional brand has now introduced their online retail division, Melissa Weinberg Tanning & Beauty, which ships a selection of self-tanning products direct to your doorstep. Now you can get a top quality, salon grade tan in the comfort of your own home.
The Florida-based company has gained five-star accolades for the superior quality of its products, which are derived from the best ingredients, including pure coconut oil, argan oil and botanicals. Melissa Weinberg Tanning & Beauty was launched due to the demands of clients worldwide for a self-tanning solution that was not unnatural looking or subpar, but instead offered a high quality, streak free application for all skin types at a reasonable price.
"I have personally developed this line of self-tanning and skincare products to be of the very highest quality for retail consumers and salon owners worldwide," said CEO Melissa Weinberg. The product line includes a luxury daily body lotion, gradual tanning lotion and self-tanning mousse with applicator mitt. In the coming weeks a one hour self-tanning mousse will also be added to the product line. This proprietary, exclusive blend of unique bronzing accelerators will produce a beautiful tan in only 1-4 hours, depending on the darkness looking to be achieved. It will no longer be necessary to leave a product on for 8+ hours for the tan to develop.
Melissa Weinberg explains, "The best thing about these self-tanning products is that they are the same professional salon formula that was created for beauty professionals, but in an easy to apply luxurious mousse. As a top airbrush tanning artist, I had a very clear idea of what I wanted, and what my clients wanted. My luxury line addresses all these concerns: a superb color, absolutely no ugly streaks, no chemical odor, quick drying without feeling sticky and, of course, long-lasting with a superior fade."
This luxury product line is without the chemicals used in other products available on the market, such as parabens, formaldehyde, sulfates, mineral oils, glycols, glutens or petrochemicals—and is never tested on animals.
The high quality ingredients not only provide a long-lasting realistic tan that doesn't streak, but also moisturize the skin at the same time, resulting in a longer lasting tan. And the fast-drying, odor-eliminating formulation avoids two of the most common end-user complaints. Clients will be able to get dressed almost immediately after application, as that is how quickly it dries.
The company offers US and international shipping along with wholesale options (for salon professionals) and private label options for salons wishing to brand themselves using the best self-tanning products on the market.
Retail consumers wishing to find out more about Melissa Weinberg Tanning & Beauty and its products can discover more at the company website, located at http://www.mwmelissaweinberg.com.
Salon owners can visit the professional division Perfect Glow Sunless website, found at http://www.perfectglowsunless.com
About Melissa Weinberg Tanning & Beauty
Founded by spray-tanning expert and creator of Perfect Glow Sunless, Melissa Weinberg, the company has provided salon owners worldwide with the highest quality of sunless tanning solutions and aftercare products, earning rave reviews in the process. The company's mission is to provide top quality products and excellent customer service. Ms.Weinberg also provides sunless education, training and mentoring to industry professionals worldwide. For more information on the training, please visit http://www.learntoairbrushtan.com
Website: http://mwmelissaweinberg.com/
Facebook: https://www.facebook.com/pages/Melissa-Weinberg-Tanning-and-Beauty/433042643520070?fref=ts&ref=br_tf
Follow us on Instagram: https://instagram.com/mwtanningbeauty/