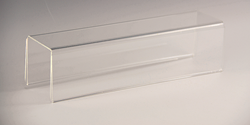 Sizing flexibility is arguably the number one feature of PPM Dual-Sided Partition Name Plate Holders.
Chino, CA (PRWEB) July 30, 2015
Plastic Products Mfg (PPM) is today announcing the release of its latest addition to an already sterling line of Partition Cubicle Name Plate Holders. The new style PNH2 is a Double-Sided Cubicle Name Plate Holder, giving customers an excellent new option in office layout, name plate exposure, and style. With the ability to manufacture any size to specifications, PPM's dynamic new Dual-Sided Name Plate Holder is expected to make an immediate market impact.
Departing from standard one-sided models, viewability from both inside and outside individual cubicles automatically makes Style PNH2 a smart investment in retrofitting and developing new office space. Clear Double-Sided Acrylic delivers both aesthetic appeal and common sense space utilization. Its composite material is tough and sturdy, able to stand the hard knocks of a busy professional center.
Crystal clarity is also a key attribute of this new Name Plate Holder, and one for which PPM is well-known and established.
Of course, cubicle partition dimensions can vary significantly. Sizing flexibility is arguably the number one feature of PPM Dual-Sided Partition Name Plate Holders. Measured by height, width, and depth, standard cubicle sizes are easily accommodated through in-stock availability. PPM emphasis on custom sizes provides an additional value-added benefit that's convenient and cost-effective.
Online ordering is immediately available at http://www.plasticproductsmfg.com and questions / customization requests for new Dual-Sided Partition Name Plate Holders are welcome.
About Plastic Products Mfg - Specializing in manufacturing and distributing Acrylic and Vinyl Display Products, Sign Holders, Brochure Holders, Point-of-Purchase displays and table tents for more than three decades, Plastic Products Mfg has a strong reputation for top quality standards, outstanding delivery, and an exclusive "Customer Bill of Rights."
Plastic Products Mfg has manufacturing facilities in our California headquarters and production sources in Mexico and China. This allows us to offer our customers the best value and quality with thousands of in-stock products available for fast, hassle-free shipping anytime.