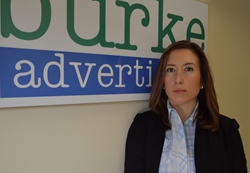 Bedford, NH (PRWEB) July 29, 2015
Burke Advertising, a leading advertising agency in New Hampshire, announces the promotion of Jessica McKenna to Art Director. McKenna previously served Burke Advertising as Multimedia Designer and worked up to Lead Designer over the past 11 years.
In McKenna's new role as Art Director, she will continue hands-on efforts within Burke Advertising as well as manage design company-wide, assuring adherence to brand standards, creative message, and consistency.
McKenna is a graduate of Saint Anselm College in Manchester, NH with a BA in Fine Art.
About Burke Advertising
Established in 1994, Burke Advertising services regional and national clients with a full array of communication services including: media planning, campaign development, creative production, new media solutions, direct mail, video production, web design, public relations and print services. A sample of Burke Advertising's current clients include: Banks Chevrolet, Rivier University, Unitil, Best Fitness, Lawn Dawg and New Hampshire NeuroSpine Institute.