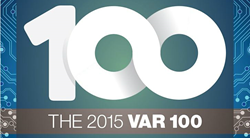 Our firm continues to deepen our bench strength with Deltek Vision experts allowing us to be the go-to firm for consulting, customization, and integration.
Steamboat Springs, Colorado (PRWEB) August 04, 2015
Full Sail Partners, a Client Feedback Tool and Deltek Premier Partner, recently announced it has earned a spot on Accounting Today's 2015 Top Value-Added Reseller (VAR) List. Accounting Today is a leading provider of online business news for the tax and accounting community, offering breaking news, in-depth features, insightful editorial analysis, and a host of web-related resources and services.
Each year a select group of 100 organizations are honored for their accomplishments as VARs. The top VARs are selected from organizations focused on sales and implementation of accounting and Enterprise Resource Planning (ERP) software. Criteria used to determine the winners include 2014 revenue, number of offices, and staff size.
According to Seth Fineberg, Technology Editor of Accounting Today, "The Accounting Today VAR 100 list is comprised of top accounting and ERP software resellers throughout the country, ranked by revenue. This select group represents those in the world of accounting software resellers that are truly ahead of the pack and we are pleased to honor them in this special report."
Full Sail Partners provides on-premise and cloud-based solutions for architects and engineers, energy and environmental consultants, and professional service firms across the United States. Full Sail Partners' team, collectively, brings more than 200 years of experience with Deltek solutions. The firm represents unique technology solutions that integrate with Deltek Vision including Deltek's Kona social collaboration platform, the Client Feedback Tool, and Vision Unleashed.
"Last year Full Sail Partners was listed as one of the VARs to watch and we are extremely honored to make our return to the Value-Added Reseller Top 100 List," said Sarah Gonnella, Vice President of Marketing and Sales of Full Sail Partners. "Our firm continues to deepen our bench strength with Deltek Vision experts, allowing us to be the go-to firm for consulting, customization and integration. Jumping to number 85 in Accounting Today's Top 100 Value Added Reseller list is a great accomplishment and demonstrates our ability to engage our existing client base, as well as, target new project-based firms beyond the AEC industry."
About Full Sail Partners
Full Sail Partners provides client-focused technology services and solutions for more than 1,000 professional services firms nationwide. As Premier Partners for Deltek and the Client Feedback Tool, Full Sail Partners helps project-based firms fully integrate their business processes by connecting their front end and backend systems. We seek to help organizations identify the critical resources needed to create a faster, more efficient and cohesive business infrastructure.
About Deltek
Deltek is the leading global provider of enterprise software and information solutions for professional services firms and government contractors. For decades, we have delivered actionable insight that empowers our customers to unlock their business potential. 16,000 organizations and 2 million users in over 80 countries around the world rely on Deltek to research and identify opportunities, win new business, optimize resources, streamline operations, and deliver more profitable projects. Deltek – Know more. Do more.® http://www.deltek.com