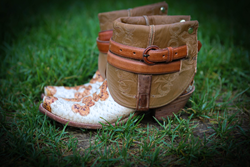 As the only event of its kind, the Western Design Conference has continued to attract a growing audience year after year.
Jackson Hole Wyo., (PRWEB) July 30, 2015
The Western Design Conference (WDC), the world's leading celebration and exhibition of Western furniture, fashion and accessories, has announced four days of events to take place Sept. 10 - 13, 2015, at the Snow King Sports & Events Center in Jackson Hole, Wyo. The only event of its kind – and a signature event of the annual Jackson Hole Fall Arts Festival – the WDC Exhibit + Sale was created to spread the traditions of original Western design and develop a platform for artisans to share their constantly evolving craft while giving patrons a way to celebrate, engage and purchase these art forms in a highly entertaining fashion.
In addition to its annual Exhibit + Sale, the WDC kicks off with a much anticipated Opening Preview Party and Fashion Show, sponsored by Ward + Blake Architects. This year's Exhibit + Sale will also include a new Designer Show House, featuring six professionally designed rooms where guests can explore the work of talented interior designers.
"As the only event of its kind, the Western Design Conference has continued to attract a growing audience year after year—and we are expecting to break our record in sales and attendance again this year," says Allison Merritt, Executive Director of the WDC. "With the addition of the Designer Show House and the outstanding lineup for the fashion show, this year's event is not to be missed."
The Opening Preview Party on Thursday, Sept. 10, provides early entry into the Western Design Conference Exhibit + Sale. This gala celebration begins at 6 p.m. with an opportunity to shop and meet over 130 artists and designers. Guests view one-of-a-kind creations while sipping signature cocktails and enjoying gourmet bites by Café Genevieve. A captivating addition this year is the Designer Show House where juried artists' creations and custom interior design come alive by integrating one-of-a-kind objects into a home environment.
A highlight of the opening evening is the always stunning Fashion Show. Designers' innovative couture collections are modeled in an intimate runway format, where Jackson locals often appear as models in the event. The collections of handmade clothing, jewelry and accessories are typically accompanied by fabulous themes and great music, making for a highly visual and fun experience. A Winners' Circle Art Auction precedes the Fashion Show, where guests bid on new works by a select group of top award winners from previous years.
The celebration at the Snow King Center continues Sept. 11 –13, with the Western Design Conference Exhibit + Sale—providing a showcase of the museum-quality functional art—as well as the new Designer Show House and Retail Row shopping. Cash awards for design excellence totaling $19,100 are distributed annually. Three-day passes for the Exhibit + Sale are $15; tickets for the Opening Preview Party, Live Auction and Fashion Show are $50/person; $125/person for limited reserved seating. To purchase tickets, visit http://westerndesignconference.com/events/.
About the Western Design Conference:
The 23rd annual Western Design Conference Exhibit + Sale is a four-day, multimillion-dollar event that brings together craftspeople, collectors, interior designers, architects and fashion designers with an interest in the West, sponsored by Mountain Living magazine. The Western Design Conference was founded 23 years ago in Cody, Wyo., as a way to promote contemporary artists working in historical American craft methods, and moved to Jackson in 2007. Allison Merritt, who purchased the WDC in 2014 after seven years acting as event manager, continues the strong commitment to Western arts in Wyoming while expanding the reach of the show. From documented American craft, to home design, to couture fashion, the show encompasses all aspects of the best of Western design. Additional information on the WDC, including schedules and tickets, is available at http://www.westerndesignconference.com and on Facebook and Twitter @WesternDesign.
Media Contact: Amy Stark, WordenGroup Public Relations, amy(at)wordenpr(dot)com, 307.734.5335.