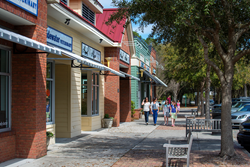 Riviera Apartments enjoys a great location with a variety of neighborhood amenities. Communities like Seaside Farms are sustainable, and create the high quality of life people are seeking when they come to Mt. Pleasant.
Mt. Pleasant, SC (PRWEB) July 31, 2015
Riviera Apartments, developed by The Beach Company and designed by Ron Harwick of JHP Architects/Urban Design, was selected as "Best Village" in the National Apartments Assocation's Units Magazine Curb Appeal Awards. Riviera's unique design is built around and between the various businesses at Seaside Farms, a thriving coastal neighborhood located at the intersection of the Isle of Palms Connector and Rifle Range Road.
Riviera Apartments is just a bike ride to Isle of Palms and a short drive to Downtown Charleston. Apartment homes at Riviera feature an abundance of windows, open floor plans, designer finishes and top-line appliances. Residents enjoy a plush Club Room, large pool and fitness facilities, walking trails, and an outdoor grilling area.
The Seaside Farms community where Riviera is located enjoys a variety of residents – professionals, young families, and retired – all whom enjoy a pleasant quality of life. The layout of the neighborhood provides easy access to community amenities and encourages walking and bicycling. The mix of shopping, entertainment, services, and park space ensures vibrant activity in the community all twelve months of the year.
"Seaside Farms is a great example of the benefits of the Town of Mount Pleasant and developers working together for long-term success," says Beach Company CEO, John Darby. "Riviera is one of four multifamily complexes at Seaside Farms. There is a good balance of single family, multifamily and retail in a great location with a variety of amenities. Communities like Seaside Farms are sustainable, and create the high quality of life people are seeking when they come to Mt. Pleasant."
The Shoppes at Seaside Farms is home to hospitality, retail shops, restaurants, and professional services. Local and national retailers include: Target, Harris Teeter grocery, Stagecoach, Basil, Opal, Yamato Japanese Steakhouse, Gilligan's Seafood, Bikram Yoga, Better Homes and Gardens Real Estate, and Bank of America, to name a few.
About Units Magazine
UNITS Magazine is published by the National Apartments Association. It features news in the multifamily housing industry. Features include movers and shakers in the industry, profiles of cutting-edge firms and properties, and articles covering every aspect of residential property management and ownership.
About The Beach Company
With a 70-year history of establishing landmark properties and communities, The Beach Company evaluates each development opportunity for its potential to improve the quality of life for its neighbors and contribute to the long-term economic vitality of the region. The Beach Company's diverse real estate interests include residential and resort properties, office buildings, shopping centers, industrial parks and land across the Southeast. With progressive vision, influenced by a deep reverence for tradition, The Beach Company's mission is to create enduring value in every endeavor for generations to come. For more information, visit http://www.thebeachcompany.com.