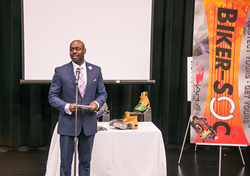 "Judging the contestants was very difficult! The 10 finalists did an excellent job and I am proud of the three entrepreneurs who came out on top," said Marcos Vigil, Deputy Mayor of Jersey City.
Jersey City, NJ (PRWEB) July 30, 2015
Last night, three New Jersey entrepreneurs left the Start Something Challenge (SSC) Grand Finale equipped with a total of $22,500 in business grants alongside newly-gained marketing and pitching skills to grow their ventures. The event was the culmination of a 6-week long statewide annual business pitch competition. Co-sponsored by New Jersey City University, the event was held at the West Side Theatre, the finale brought Rising Tide Capital's community of supporters, partners, funders and entrepreneurs together to hear ten SSC finalists pitch their business ideas live before a panel of judges.
While 88 entrepreneurs from 38 cities throughout New Jersey initially entered the Start Something Challenge, in the end three Jersey City entrepreneurs won the top prizes.
Omar Ruffin delivered a compelling pitch, which landed him the first place prize of $10,000 for his business BiArté Biker Gear Corporation, which offers the BIKER-SOC, a protective shoe cover for motorcyclists. With a mission to teach all kids how to sew, Angela Huggins won the second place prize of $7,500 for her business Angel Hugs 4 All. In third place, Myani Lawson won $5,000 to help upgrade and expand her Bergen Lafayette Montessori School.
"I'm on cloud nine right now; I still can't believe I won! The Challenge pushed me to be better and really step my game up with promoting and explaining my business. To prepare for the final pitch, I just kept practicing. I know my product well. I've been working on it for a very long time. With the $10,000, I am going to expand the BikerSoc product to include the color pink, increase our marketing and advertising campaigns and add additional inventory to our shelves," said Omar Ruffin.
During the Finale, ten finalists pitched head-to-head in hopes of winning the $10,000 grand prize. Each entrepreneur delivered a five minute business pitch followed by two minutes of Q and A with the judges. The panel of 12 expert judges scored each contestant on their pitch, the scores were tabulated, and three entrepreneurs emerged as winners.
"I am so excited that we won and will be able to expand, improve our facilities and purchase new equipment to bring high quality education to a wider population of children! The SSC really pushed me out of my comfort zone. I learned so much from going through the Challenge and the Community Business Academy, including how to use social media and offline marketing to promote my business. I am so proud that I was able to successfully convince people that my schools is worthy of their investment," said third place winner Myani Lawson.
While only three entrepreneurs won cash last night, all of the finalists will receive prizes from Rising Tide Capital valued at over $5,000. The seven finalists not winning cash prizes will all receive an iPad. Last night, the audience also voted for a People's Choice award of $1,000, which will be presented along with all of the other prizes at the Start Something Champions Gala on November 5 at the Liberty House in Jersey City. All ten finalists will also be celebrated at a showcase event, sponsored by JPMorgan Chase in New York City in October.
The Challenge, was envisioned by Rising Tide Capital as an opportunity for New Jersey entrepreneurs to learn how to utilize online and offline marketing tools to promote their businesses and increase customer engagement.
The ten finalists progressed from an initial pool of 88 entrants who each created a business commercial using the Animoto.com software which they promoted using a variety of online and offline marketing tools. They received a total of 46,203 views for their videos on Youtube and the top 30 entrepreneurs advanced to the next semifinal round of competition where their videos were hosted on the Start Something Challenge website for public vote. In total, the semi-finalists garnered 15,210 votes during the week of the semifinals, and the top ten advanced to the live pitching round of competition.
"Over the past 4 years we have had hundreds of aspiring as well as active entrepreneurs already in business compete in Rising Tide Capital's Start Something Challenge. They've come from over 40 towns and cities and with our visionary Start Something Challenge Underwriter- JPMorgan Chase and our sponsors of all levels- this activity has empowered entrepreneurs to better communicate about their businesses, online, offline and in person," said Michael Caslin, Managing Director, Strategy and Development.
"It was a pleasure to see so many stakeholders from the Rising Tide Capital community come out to support the finalists—funders, RTC instructors and coaches, volunteers, and representatives of other nonprofit organizations, and so many of our entrepreneurs. This is what an entrepreneurial community looks like. With this much support for their businesses, every one of our finalists was a winner tonight," he added.
The panel of judges for the competition last night included Tiffany Aliche, The Budgetnista; Ralph Anderson, Managing Director, The Green Group; Jonathan Coleman, Director of Programs, ASSETS; Michellene Davis, Executive Vice President of Corporate Affairs, Barnabas Health; Richard Fonte, Senior Vice President, Business Banking Market Manager, JPMorgan Chase Bank N.A.; Himanshu Kalra, Vice President, Learning and Development Manager, PIMCO; Cyndi Knapic, Head of Animoto for Business, Animoto; Jimi Olaghere, Founder, Geek Supply CO and A Geek & A Gentleman; Ava Schlesinger, Clinical Director, Domestic Abuse Sexual Assault Crisis Center Warren County; Steve Schlesinger, CEO, Schlesinger Associates and Marcos Vigil, Deputy Mayor, The City of Jersey City
"With three of the winners being from Jersey City, I think it really shows the creativity and drive that exist within the city. All of the contestants worked really hard to make it to the finals. They took an idea and are making it into something concrete to benefit everyone who lives in the area. Judging the contestants was very difficult! The 10 finalists did an excellent job and I am proud of the three entrepreneurs who came out on top," said Marcos Vigil, Deputy Mayor of Jersey City.
The Start Something Challenge (SSC) is a statewide pitch competition and business strengthening opportunity for New Jersey entrepreneurs. If you are interested in networking, perfecting your elevator pitch, gaining visibility for your business venture, and winning a $10,000 business grant, the Challenge is for you. The Challenge is funded by visionary supporters and organized by Rising Tide Capital, a non-profit organization that helps entrepreneurs start and grow successful businesses. To ensure that every participant has a chance to win the top prize, Rising Tide Capital will provide each entrant with hands-on coaching and mentorship. Free to enter, the competition is open to any New Jersey resident 18 years or older, who operates a microbusiness or has a strong business idea.
To learn more, visit http://www.StartSomethingChallenge.org today.
About Rising Tide Capital
Headquartered in Jersey City, Rising Tide Capital, Inc. is a 501(c)(3) non-profit organization founded with the mission to empower entrepreneurs to create and grow small businesses which transform lives and communities. The organization's vision is to build a replicable model for high-quality entrepreneurial development services that can be adopted locally in other low-income communities. Learn more at http://www.RisingTideCapital.org