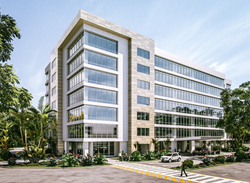 The new LEED certified building enhances the collection of commercial and industrial space we offer to companies looking to locate to one of the most attractive markets in Latin America
Panama City, Panama (PRWEB) July 30, 2015
Special Economic Area Panama Pacifico is joining the global green building movement by constructing its first 7-story, LEED® certified Class A office building. Once completed in 2016, the 18,624 square foot office building will boast sustainability features and cost savings options, making Panama Pacifico more competitive among the international business community.
"We are excited to build the first LEED Certified office building at the Panama Pacifico Special Economic Area," said Henry Kardonski, Managing Director of Panama Pacifico. "The new LEED certified building enhances the collection of commercial and industrial space we offer to companies looking to locate to one of the most attractive markets in Latin America."
Sustainability features of the building include a reflective solar roof, green transportation options such as direct access to public transportation, bicycle parking, and high efficiency water and energy systems. The use of potential contaminants in the interior of the building has also been limited. Additionally, natural vistas and natural light have been intelligently used throughout the building. These amenities, coupled with other high standards of design, construction, and functionality, will expend less energy and reduce water consumption as well as lessen the global and ecological impact of the building.
"Moving into a LEED certified building can generate a higher return on investment for companies due to the increased efficiency and reduced costs of water and energy bills by as much as 40 percent," said Kardonski.
In addition to the sustainability advantages of the building's LEED classification, the Panama Pacifico Special Economic Area is a public-private partnership that provides favorable regulations such as special tax, labor, and legal incentives to companies that open a facility on the site. The Special Economic Area has captured the attention of global companies, especially those looking for a strategic location to consolidate their distribution, manufacturing, and back office operations to a single location.
About Panama Pacífico
Panama Pacifico is a mixed-use master planned community located on the former U.S. Howard Air Force Base near the Panama Canal and just 15 minutes from downtown Panama City. Developed by London & Regional Panama, a joint venture by British company London & Regional Properties and Southstone Investments, the project is one of the largest mixed-use developments in the world with 3,450 acres (1,400 hectares) of land assets. Panama Pacifico has quickly become a vital business hub and world-class global logistics center for leading multinational corporations seeking a competitive position in the Americas. More than 220 companies have already set up operations in Panama Pacifico. For more information, visit http://www.panamapacifico.com.