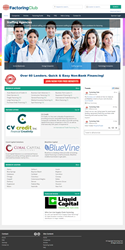 FactoringClub.com provides small businesses a large selection of factoring companies and asset based lenders.
Irving, Texas (PRWEB) August 04, 2015
Factoring Club announced today a new web platform, FactoringClub.com, for small business financing. FactoringClub.com offers more than 70 lenders, primarily invoice factoring companies, purchase order financing companies and asset based lenders. Small businesses looking for financing can easily find the right factoring company on FactoringClub.com.
Businesses frequently face the challenge of finding the right factoring company. Search engine results commonly skew results that favor certain criteria. FactoringClub.com provides borrowers a way to find lenders based on location, industry, or product type. FactoringClub.com is structured with a "mini-website" for each factoring company, so that visitors can quickly evaluate relevant facts and information.
Integrated into a single, easy to use platform, FactoringClub.com includes:

Full Company Descriptions
Company Contact Information
Industry Categories
Photos and Videos
Maps and Locations
Financial Product Details
Contract Terms
"FactoringClub.com is committed to providing information necessary for small business looking for financing," said Rick Hultz, Founder and CEO. "We have partnered with the best factoring companies in the industry to provide a large network of quality lenders."
FactoringClub.com currently has over 60 lenders in 25 states with heaviest concentrations in major commercial centers such as Los Angeles, Houston, Dallas, Miami, Chicago and New York City. The average maximum credit facility per lender is more than $3 million with many lenders capable of $10 million or more.
Invoice factoring, often referred to as receivables factoring, is a financial tool for businesses that can't get bank financing. Because factoring lenders focus heavily on the creditworthiness of a business's customers, it provides opportunities for businesses that are new or have poor credit.
Stiff bank regulations have made factoring an attractive alternative for thousands of small businesses every year. However, the factoring industry isn't a high profile source of capital. Many businesses don't even know that factoring is available. "A major objective of Factoring Club is to broaden awareness to businesses that factoring can meet their financial needs," said Rick.
About Factoring Club
Factoring Club provides a one-stop resource for invoice factoring, (FactoringClub.com). FactoringClub.com is focused exclusively on invoice factoring, purchase order financing, and asset based lending. Factoring Club offers superior brokerage services in the small business finance market.