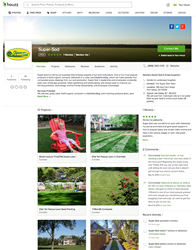 Super-Sod wants to participate in planning new home lawns from the ground up.
Atlanta, Georgia (PRWEB) July 31, 2015
Super-Sod wants to participate in planning new home lawns from the ground up. They joined Houzz.com with a Super-Sod Pro Page as the perfect fit for such a goal. Houzz is a social media site that features home and landscape ideas via pictures and articles. The social website is a dynamic site that spreads home and home garden design ideas when members share their project pictures and save other member's pictures and Houzz articles to personal ideabooks. Coupled with the social sharing of pictures, there is Facebook-like networking dialogue with other homeowners and local businesses alongside plenty of product and how-to information that tags along with each photograph.
When homeowners use Houzz to begin thinking and dreaming about new and renovated gardens, particularly when it comes to lawns, Super-Sod is now present with a Houzz page so that the site's memebers can access Super-Sod's lawn and home garden design ideabooks and their turfgrass product profiles. Super-Sod's turfgrass brands are selected for their superior performance in their Southeastern market states of Georgia, North Carolina, South Carolina, and Florida.
Super-Sod is a family-run business that employs experts in turf and horticulture. One of their most popular products has been their Soil3 organic compost, delivered in a cubic yard BigYellowBag, which they make partially from composted grass clippings from their turfgrass production. Soil3 is recommended for amending all soils from vegetable gardens to lawns. The sod company continue to develop new garden products, foster gardening and landscaping, and always seeks to improve their farming practices, technology, environmental stewardship, and employee knowledge.
Visit supersod.com to learn more about the company and to sign up for their Monthly Lawn Tips eNewsletter. From the website customers can submit quote requests without having to pick up the phone.