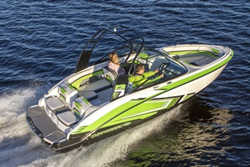 It is vital that we make this extra effort to let people get on board for a ride, so that they can experience how much fun boating really can be
St. Joseph, MI (PRWEB) July 30, 2015
Pier 33 Marina of St. Joseph, Michigan has announced a new feature for the Pier 33 display at the Progressive Insurance Michigan City In-Water Boat Show.
For the first time ever at this event, Pier 33 will be providing complimentary on-water demonstrations of new boats during the boat show.
"It is vital that we make this extra effort to let people get on board for a ride, so that they can experience how much fun boating really can be" said Pier 33 General Manager Tighe Curran "and there's no better place or time to do it than during this summertime boat show".
Curran noted the importance of reaching potential first-time boaters who will be visiting the boat show and the opportunity this presents to give them the real feel of being on the water.
"We're going to provide examples of three different styles at our exclusive demo dock: a stern drive runabout from Chaparral, an outboard center console from Robalo and two Chaparral Vortex jet boats. Our staff will run the boats and help these visitors learn about the best ways to get on the water. As an industry, we need to work harder to grow this wonderful, affordable outdoor recreational activity".
The boat show begins Thursday August 6 and continues thru Sunday August 9 at Washington Park in Michigan City, Indiana.
Pier 33's boat show display will straddle shore and water, with new boats from Chaparral and Robalo on display. Debuting at this year's show will be the all-new Chaparral 223 Vortex VRX and two debuts from Robalo – the R 242 Center Console and R 227 Dual Console.
More information regarding the Progressive Insurance Michigan City In-Water Boat Show is available directly through Pier 33 and Pier 33's website.
Pier 33 is a full-service marina located in St. Joseph, Michigan, providing new and used boat sales to boaters from a wide region including Michigan, Illinois and Indiana. Pier 33's facilities include 200 docks, complete boat repair and maintenance services, yacht brokerage service and more. Pier 33 is a dealer for new boats from Robalo, Chaparral and Pursuit Boats.