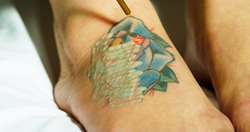 PHAZE is the first clinic in Las Vegas to provide a tattoo removal service that can removal ALL ink colors.
Las Vegas, Nev. (PRWEB) July 31, 2015
PHAZE Laser Tattoo Removal is offering advanced Astanza Trinity laser tattoo removal treatments to patients with colorful tattoos in Las Vegas. Jeremy Spencer, co-founder and drummer of the metal band Five Finger Death Punch, founded PHAZE to give patients with tattoo regret a second chance at having a clean slate.
"Tattoo removal is an exciting field to be a part of – there are so many people that have experienced a bad tattoo and need a source for good removal, including myself. People with colorful tattoos usually have a harder time achieving complete removal due to the fact that many lasers struggle to remove bright or vivid inks," said Spencer. "We wanted to provide a comprehensive solution for all patients that come to PHAZE – including those with multicolored tattoos – which is why we decided on the Astanza Trinity."
The Trinity is the most powerful multi-wavelength laser designed for removing tattoos. This advanced Q-switched Nd:YAG and ruby laser combination system is widely trusted for its ability to completely remove colorful inks, including recalcitrant colors like bright blues and greens that other lasers leave behind. The Trinity produces ultra-high peak power and extremely fast pulse duration for more ink shattering and faster results. These advanced features deliver complete ink clearance in fewer treatments on tattoos of all colors.
"The Astanza Trinity is by far the best tattoo removal system for treating colorful or challenging tattoos and has delivered incredible results to our patients so far," said Spencer. "We're excited to be the first in Vegas with this innovative laser."
ABOUT PHAZE LASER TATTOO REMOVAL
PHAZE Laser Tattoo Removal is a specialty clinic in Las Vegas that exclusively provides laser tattoo removal services. Jeremy Spencer founded PHAZE after experiencing tattoo regret first-hand and receiving a laser tattoo removal treatment himself. PHAZE's advanced technology delivers complete clearance of ink, fading of tattoos in preparation for a cover-up, or lightening of a specific portion of a tattoo. The highly-trained staff at PHAZE will craft a treatment plan customized to your skin and body art goals.
All PHAZE clients are offered free consultations and tattoo assessments. For more information or to schedule an appointment, visit http://www.phazetattooremovallasvegas.com or call (702) 545-0660. PHAZE Laser Tattoo Removal is located at 1131 E. Tropicana Ave, Suite F, Las Vegas, Nevada 89119.
ABOUT ASTANZA LASER
Astanza is a leading manufacturer of Q-switched lasers with a unique focus on the application of laser tattoo removal. In addition to developing cutting-edge medical laser devices such as the Duality, Eternity, and Trinity laser systems, Astanza offers its customers a complete range of training, marketing, and business consulting services specific to achieving success in this growing field.
Astanza Laser, Inc. is headquartered in Houston, Texas, with customers throughout North America and Europe. For product, investor, or press information, call (800) 364-9010, or visit http://www.AstanzaLaser.com.