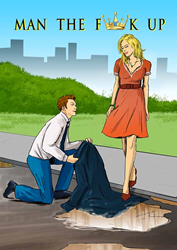 (PRWEB) August 20, 2015
Fairy tales sure are not what they used to be. "Man the F*ck Up" just lays it on the line and gives gals and guys a much-needed chance to laugh about a modern-day dilemma – where did all the real men go?
Author S Kincaid, an unintended spokesperson for the realities of contemporary courtship emphasizes: "It is not about man-bashing at all. Nor is it to say women are perfect by any means. It is more about recognizing how societal interactions and responsibilities have changed, or maybe more accurately, have suffered from arrested development. Sure, women are on more equal footing these days, but why does that mean that a guy should take the gas off, especially in a relationship? A girl is still a girl and just wants a guy to be her man… you know, to man the f*ck up. From my own experiences and in conversations with others, through all the heartaches and disappointments of broken relationships, it seemed like many people have paused and thought about the topic….and more importantly, could use a good laugh about it too."
S Kincaid's prose is complimented by the artwork of Three Studio Team which captures Kincaid's wit and humor by highlighting moments of endearment with radically raw honesty. It is definitely not a fairy tale to read to your kids…unless of course one of the kids in your life is actually an adult who has not manned the f*ck up.
Primed to become a widespread sensation, and at a minimum, to make people smile, "Man the F*ck Up" is available from all major online retailers, in most e-book formats, and at select independent bookstores. Please see http://www.manthefuckup.net for more information and social media connections for you to share your own "Man the F*ck Up" moments.
KDP promotion Aug 20-21. Visit http://www.amazon.com/Man-F-Up-S-Kincaid-ebook/dp/B00XG8W9WK/ref=tmm_kin_title_sr?_encoding=UTF8&qid=1439961132&sr=1-1 for a free download.