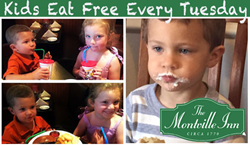 We wanted to give these younger guests get a small token of our appreciation
Montville, NJ (PRWEB) July 31, 2015
Morris County's premier upscale establishment, The Montville Inn, will be hosting a Kids Night, featuring a Complimentary Dinner every Tuesday from 12 PM – 9 PM to show appreciation to the loyal customers who have made the restaurant a top destination. Every 2 children under twelve accompanied by 1 adult will receive a complimentary kids' meal, including beverage and a scoop of gelato for dessert.
"I love the Strawberry Gelato and the kids' cups with the crazy straws," says Ella, 6, of Montville. "The Montville Inn is my favorite restaurant!"
Adds owner TJ Nelligan, "We appreciate all the families that have had their children's special events at the Montville Inn, from First Communions and christenings to birthday parties and sport celebrations. We wanted to give these younger guests a small token of our appreciation," said Nelligan. "So we thought we would offer complimentary meals to kids 12 and under on Tuesdays for the entire month of August."
The Montville Inn is proud to be a family-friendly, neighborhood restaurant that is suitable for both special occasions and an everyday meal. With kids' options such as a Kobe Beef Cheeseburger and Steak Fries, House Made Pasta with Butter or Fresh Tomato Basil Sauce, Thin-Crust Pizza, Home Style Mac and Cheese, or Chicken Fingers and Fries, kids have plenty to choose from.
About The Montville Inn
The Montville Inn is a neighborhood restaurant where guests can enjoy everything from relaxed, family meals to date nights or even business meetings. The unique comfort food and fresh, creative specials offer something for everyone. Complete with a wrap-around porch, gorgeous copper bar, two private dining rooms, and a cozy main dining area, whose decor features historic photos of Montville Township and the surrounding area. It is the pride of owner TJ Nelligan, a long-time resident of Montville, whose family has been here for generations. Nelligan was inducted into the Montville High School Hall of Fame in 2004 and was named Montville Township Citizen of the Year in 2004.