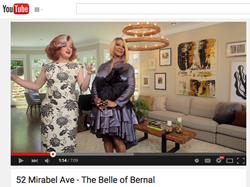 The video features two San Francisco drag queens taking viewers on an entertaining tour of a house in San Francisco's Bernal Heights neighborhood.
San Francisco, CA (PRWEB) July 30, 2015
Climb Real Estate produced a unique home walkthrough video for "The Belle of Bernal," a property listed for sale at 52 Mirabel Avenue. The brainchild of co-listing agents Michael Minson and Danielle Lazier, the video features two San Francisco drag queens taking viewers on an entertaining tour of a house in San Francisco's Bernal Heights neighborhood.
"Danielle and I have had a lot of success with our video tours," said Climb's Michael Minson. "We wanted to raise the bar and do something innovative and memorable to set this beautiful house apart and get it the attention it deserves. Mercedez Munro and Katya Smirnoff-Skyy were the perfect hosts for this larger-than-life property."
The video achieved its goal of generating interest from prospective buyers; the home sold for $2.625M, $627,000 higher than the list price of $1.998M. It also grabbed the attention of thousands of other viewers interested in seeing Climb's creative use of entertainment to promote a real estate sale. The video has been featured in articles by SF Weekly and NBC Bay Area.
"We're very pleased that the video was a huge success", said co-star Mercedez Munro. "Katya and I have amazing chemistry together, so we weren't surprised that it turned out as well as it did. The house is gorgeous, just like we are, and it inspired us!"
Climb Real Estate is at the forefront of thinking outside of the box when it comes to leveraging the latest technology and marketing practices to serve their clients in the San Francisco Bay Area. The company's efforts to distinguish itself in the market include partnerships with SFMade, a non-profit organization dedicated to promoting and supporting local businesses, and Sindeo, a mortgage broker that's revolutionizing the home-buying experience.
"San Francisco is a unique city full of colorful architecture and character. We're most famous for homes named after painted ladies, so why not use drag queen stars to show off this exquisite home? Ultimately, the video did a fantastic job of grabbing attention for our listing, and our clients loved it!" said co-listing agent Danielle Lazier.
ABOUT CLIMB REAL ESTATE
Climb Real Estate Group is a recognized leader in the marketing and sales of Bay Area residential real estate. The San Francisco-based independent and locally-owned brokerage is proud to be the leader in the purchase and sale of a diverse array of homes ranging from $80,000 parking spots to million-dollar mansions, new development studios to luxurious view penthouses, and live/work lofts to charming bungalows and single-family homes. With more than 11 years of real estate marketing experience and collective sales in excess of a billion dollars, Climb Real Estate Group offers unparalleled marketing and sales expertise with offices in Potrero Hill, Noe Valley, Mission Bay, and Oakland's Jack London Square.