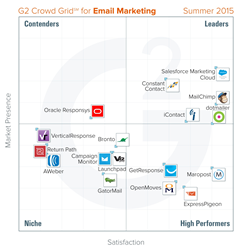 CHICAGO, IL - (PRWEB) July 30, 2015
The updated Grid℠ report for email marketing (best of breed) platforms, published today by business software review platform G2 Crowd, ranks 18 products to help purchasers in their selections.
Salesforce Marketing Cloud, Constant Contact, MailChimp, iContact and dotmailer were named Leaders in the report, receiving strong customer satisfaction scores with a large market presence. GetResponse, Maropost, OpenMoves Email Marketing Platform and ExpressPigeon and earned high customer satisfaction scores with a smaller market presence than Leaders, and were named High Performers. MailChimp and Salesforce Marketing Cloud were tied with the greatest overall customer satisfaction scores.
The Summer 2015 report also includes Grids℠ representing reviewer company size segments: Small Business (50 or fewer employees), Mid-Market (51 to 1,000 employees) and Enterprise (1,001+ employees). The Leaders and High Performers for each segment are:
Grid℠ for Email Marketing: Best of Breed (Small Business):

Leaders: Salesforce Marketing Cloud, MailChimp, iContact, dotmailer
High Performers: Launchpad, Maropost, ExpressPigeon
Grid℠ for Email Marketing: Best of Breed (Mid-Market):

Leaders: Salesforce Marketing Cloud, Constant Contact
High Performers: MailChimp, dotmailer
Grid℠ for Email Marketing: Best of Breed (Enterprise):

Leaders: Salesforce Marketing Cloud, Oracle Responsys
High Performers: dotmailer
For most products, reviewers voiced the need for more specialized features in short-answer responses, such as A/B split testing and enhanced template customization. However, given the average payback period is no more than a year for any particular product and less time for most, many users preferred affordability to more robust feature sets.
The Grid℠, created from G2 Crowd's software review platform, compiles customer satisfaction as reported by users, along with vendor market presence as determined from public and social data, to rank products. The Summer 2015 report is based on data from more than 850 reviews written by business and marketing professionals.
Email marketing platforms are designed to directly distribute a commercial message using email to acquire new customers, increase customer engagement, or share promotional materials. Email marketing platforms that integrate with CRM or web analytics tools can enhance the segmentation capabilities of the platform.
Email marketing is often purchased as part of a broader marketing automation suite. This Grid℠ report includes only "best of breed" email marketing products. For more information on the email marketing capabilities provided by the marketing suite vendors, please see G2 Crowd's Grid℠ on the best marketing automation tools.
Of the roughly 100 products vendors listed in G2 Crowd's Email Marketing: Best in Breed category, the ranked products each received 10 or more reviews to qualify for inclusion on the Grid℠. GetResponse and OpenMoves Email Marketing appeared on the Email Marketing Grid℠ for the first time.
Across all email marketing tools, reviewers reported the product they use meets their requirements at an average rate of 84%, and on average reviewers said they were 84% likely to recommend the product they use.
Customer support proved to be strong across the board; ratings across products averaged, respectively, at 87% and 85% satisfaction for Ease of Doing Business and Quality of Support. In short-answer responses, many reviewers noted exemplary customer service as the primary reason for their positive review, even despite product shortcomings.
Some highlights from the email marketing software reviews on G2 Crowd:
"The [Salesforce Marketing Cloud] is by far the best tool I have ever used as a Marketer. The product is reliable, powerful and handles automated emails [very well]."

Caren Carrasco, CRM Manager at Luxury Retreats
"The best part about [Constant Contact] is the ease of use. I can take a new employee, give them the login credentials, and not even have to explain to them how to send out a newsletter. The WYSIWYG editor makes it simple to create a custom HTML email and blast it out to all my customers."

Christopher Butler, Vice President of Account Services at ISS 24/7
"How can anyone not love what MailChimp has to offer?...Their interface is fun, easy to use and works. Plus, the info is presented in a fun manner. MailChimp also offers a wide range of well done templates or the opportunity to use your own mad code skills to fully customize your newsletters."

Kathy Vitcak, Founder at The Blissful Dog
"iContact does a great job of working with and educating the end-user to insure that all technical needs are met in order to easily distribute content via email to a list of subscribers. List [setup] and management is easy and painless. The library of preformed templates is diverse and offers several template options for every situation."

Chris Fairfax, Digital Media Marketing & Customer Service at Surgiform Technology, Ltd.
"We have been using [dotmailer] for a number of years and it suits us as we are a small company with a broad customer base. The reports available on the site are incredibly useful for pinpointing which parts of which campaigns have been most successful for us and with whom."

David Price-Hughes, Managing Director at akg-images Ltd
"The [GetResponse] interface is very modern and easy to use. They also have a landing page builder service that lets you create landing and lead pages for your campaigns. Email deliverability is very good, skipping the spam box. But the best part is that GetResponse is much more affordable versus the other big e-mail marketing services out there."

Chad Web, President at CriticalSector
"I have used multiple tools for my [company's] needs and by far Maropost has surpassed all my needs in one. I have completely put my trust into this company and they have turned my business into an automated system. The customer service when needed is exceptional and they are very diligent to my needs."

Kayvon Fatemizadeh, Territory Sales Manager at Teva Pharmaceuticals
"The OpenMoves platform is easily navigated and provides the user with a great deal of flexibility in the creation of segmentation of email marketing lists as well as the design of each template. OpenMoves also provides the user with a great deal of metrics to better determine which marketing campaigns are most successful and why. There is always someone readily available to answer any questions regarding the system."

Daniel Terry, Marketing Associate at Hauppauge Industrial Association
"We've tried out so many [email service providers]...but until ExpressPigeon we [hadn't] found one with such an easy to use and intuitive interface where almost anyone in our organization can use the system."

Jeremy Rose, Partner at Cor Strategies
Satisfaction rankings are generated from the user reviews, and market presence is calculated from vendor size, market share, and social impact. Based on a combination of these scores, each software solution is categorized as a Leader, High Performer, Contender, or Niche.
Premium email marketing software research access can be purchased on the site for $599. These offer the original data for filtering and weighting, as well as individual profiles of each platform with the most helpful positive and negative email marketing reviews, detailed company information, user satisfaction ratings, feature scores and customer metrics. Future Grid℠ refreshes will provide updated rankings based on the latest reviews and social data.
Be sure to check out the new Grid℠ for the best email marketing software and subscribe to the premium research.
_______________
About G2 Crowd, Inc.
G2 Crowd, the world's leading business software review platform, leverages its 37,000-plus user reviews to drive better purchasing decisions. Technology buyers, investors, and analysts use the site to compare and select the best software based on peer reviews and synthesized social data. Co-founded by the founder and former executives from SaaS leader BigMachines and backed by roughly $12 million in capital, G2 Crowd aims to bring authenticity and transparency to business technology research. For more information, go to G2Crowd.com.