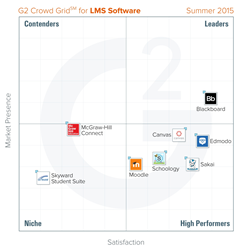 CHICAGO, IL - (PRWEB) July 30, 2015
The first Grid℠ report for learning management systems, or LMS, published today by business software review site G2 Crowd, ranks eight products to help purchasers in their selections.
Blackboard was the only Leader named in the report, receiving both strong customer satisfaction and market presence scores. Canvas, Edmodo, Schoology, Sakai and Moodle were named High Performers, earning strong customer satisfaction scores with a smaller market presence than Leaders. Blackboard also received the highest overall customer satisfaction score.
The Grid℠, created from G2 Crowd's software review platform, compiles customer satisfaction as reported by users, along with vendor market presence as determined from public and social data, to rank products. The Summer 2015 report is based on more than 280 reviews written by education and administration professionals.
LMS software helps instructors manage and organize educational courses online and provide students a single location for all course material. LMS are comprised of a document management component and communication capability, allowing teachers to upload course files such as rubrics, assignments, calendars, and gradebooks, as well as communicate with students. Students can use LMS products to submit assignments and many platforms also allow instructors to grade assignments within the platform.
Of the more than 50 software vendors listed in G2 Crowd's LMS software category, the ranked products each received 10 or more reviews to qualify for inclusion on the Grid℠.
Across all LMS platforms, reviewers reported the product they use meets their requirements at an average rate of 81 percent, and on average reviewers said they were 75 percent likely to recommend the product they use. Ease of Doing Business received the highest average satisfaction score (82 percent), with Edmodo leading at 95 percent. Product Going in the Right Direction scored lowest, with an average score of 68 percent.
Some highlights from the LMS software reviews on G2 Crowd:
"Over time, Blackboard tools have become quite sophisticated at providing some of the more nuanced features that teachers enjoy when using the LMS. Grading in discussions and wiki pages for example, is streamlined and allows the instructor to accurately see who said what or who contributed to what degree on a shared document/space."

Erin Crisp, Director of Instructional Design at Indiana Wesleyan University
"Canvas makes communication between students, TAs and the professors very convenient. Uploading and accessing...grades is very easy. [Students] can upload their assignments online and TAs and teachers can grade them on the software itself. Notices can be sent to all the students enrolled in the class. The mobile...app allows you to get notifications about assignments and grades on the go."

Abha Gosavi, PhD Candidate at Northwestern University
"[Edmodo] is set up like a social networking site, allowing students to collaborate on projects or ask questions while working together. As a teacher, I can see their thought processes as they read a book, research a topic, or create a presentation. It is nice to save documents on the site that my students often need, such as certain anchor charts, reading logs, or school forms. I am also able to create a quiz or an assignment, or even take a poll of my students all online. This is truly a very useful product!"

Becky Flynn, Teacher at Yukon Public Schools
"I really like that Schoology is a robust app on mobile platforms in addition to being a website. No matter what the platform, the tool can be accessed by students, parents and teachers alike. I love that the same tool can be used effectively from K-12. The media album feature is extremely useful not just to upload photos and videos but also to upload student creations on mobile devices quickly and efficiently."

Smita Kolhatkar, Educational Technology Teacher at Palo Alto Unified School District
"Sakai has a wonderful open architecture that is pedagogically neutral. Instructional designers and instructors can place whatever tools are appropriate for their teaching, and, more importantly, for their students' learning, into a course. The tool [palette] for Sakai is extensive, with tools for communication, administration, collaboration, and more. Sakai excels most of all, perhaps, in its ability to build collaborative working and learning models."

Martin Ramsay, Consultant at Helena Chemical Company
"Moodle has a wide range of functionality providing SCORM compliance, quizzes, completion data, badges, lessons, books etc. It is relatively easy to install and has an active support forum."

Roger Mepham, LMS Manager at Thunderhead
Satisfaction rankings are generated from the user reviews, and market presence is calculated from vendor size, market share, and social impact. Based on a combination of these scores, each software solution is categorized as a Leader, High Performer, Contender, or Niche.
Premium research on LMS tools can be purchased on G2 Crowd's website for $599. The report offers the original data for filtering and weighting, as well as individual profiles of each platform, detailed company information, user satisfaction ratings, feature scores and customer metrics. Future refreshes of the Grid℠ will provide updated rankings based on the latest reviews and social data.
Be sure to check out the new Grid℠ for the best LMS systems and subscribe to the premium research.
_______________
About G2 Crowd, Inc.
G2 Crowd, the world's leading business software review platform, leverages its 37,000-plus user reviews to drive better purchasing decisions. Technology buyers, investors, and analysts use the site to compare and select the best software based on peer reviews and synthesized social data. Co-founded by the founder and former executives from SaaS leader BigMachines and backed by roughly $12 million in capital, G2 Crowd aims to bring authenticity and transparency to business technology research. For more information, go to G2Crowd.com.