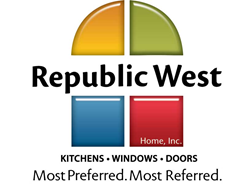 Scottsdale, AZ (PRWEB) July 30, 2015
To help combat the hot summer heat in Phoenix, Republic West Home is offering homeowners a "buy two, get one free" deal on all regularly priced window. The offer is equivalent to 33% discounted pricing and cannot be combined with any other offers.
Republic West Home, who specializes in kitchens, doors and windows, provides an energy efficient double-pane model which can eliminate 99% of harmful UV rays and heat, meaning even homeowners living in the hottest of locations can significantly benefit from this deal.
As those who've endured real summer heat know, electricity bills can run high in the summer thanks to air conditioning expenses. Those who do not have the proper insulation on windows and doors especially feel the sting of summer costs. The average single-paned window can account for 10-25% of the electric bill so switching to a double-pane can drastically reduce monthly electricity bills.
The drastic heat can often leave homeowners feeling desperate for relief. Whether homeowners take advantage of this deal or the next, Republic West Home is dedicated to providing quality experiences and results for homeowners looking to improve their homes and increase its value in the long run.
To visit Republic West Home's state-of-the-art showroom and design center, customers may do so from 9am to 5pm weekdays.
Republic West Home is a licensed, bonded and insured contractor servicing Scottsdale and Phoenix, Arizona as well as all surrounding cities. Free estimates can be obtained by calling (480) 423-9300.
About Republic West Home:
Republic West Home is a company that stands for quality, honesty and the best value. Our vision, in an industry often lacking ethics and reliability, is to deliver the best home improvement experience possible.
To deliver the best possible experience before, during and after the completion of your project, an extensive team of professionals was put in place: employees driven to make the home improvement experience a great one for you, our customers. The formula works and the pleasant experiences we create for our customers have paid off. In an industry where repeat business averages less than 5%, Republic West Home and our 15,000+ clients generate an amazing 50% of our business from previous customers and referrals.
For additional information, please call 480-423-9300 or visit http://www.republicwesthome.com
About Tank Paint:
In the never ending battle against the elements, Tank Paint is your newest ally. Once only available to high end contractors and the government sectors, Tank Paint has been uniquely engineered to provide a lifetime warranty against chipping, peeling and cracking and provides an impenetrable moisture barrier that truly acts like a coat of armor for your home. Tank Paint, now available to the civilian market is only available through their trained network of dealers.
For more information, please visit http://www.TankPaint.com .
Media contact:
Jason W. Jantzen
Phoenix Marketing Associates
http://www.PhoenixMarketingAssociates.com
602-282-0202