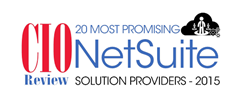 TOP Step Consulting is honored to be recognized by CIO Review's panel of experts and thought leaders," said Jodi Cicci, President and CEO TOP Step Consulting
Washington, DC (PRWEB) July 30, 2015
The CIO Review annual list showcases the 20 Most Promising NetSuite Solution Providers of 2015. TOP Step Consulting earned a top spot for their best in class expertise in providing business efficiency solutions for professional services organizations with NetSuite OpenAir.
See the CIO Review profile of TOP Step Consulting on page 58 here: Boost Business Efficiency with Professional Services Automation.
TOP Step Consulting has been recognized as a Best of the Best Professional Services Organization with Service Performance Insight for six years in a row.
"TOP Step Consulting is honored to be recognized by CIO Review's panel of experts and thought leaders," said Jodi Cicci, President and CEO TOP Step Consulting.
More and more professional services firms are implementing PSA solutions to help achieve operational efficiency and gain real-time visibility into crucial business processes. PSA solutions are uniquely designed for Professional Services organizations, as an assured way to manage projects, resources, and finances all in one integrated service management application.
With a selection to the 20 Most Promising NetSuite Solution Providers list, TOP Step Consulting earns recognition as a leading vendor and consultant providing business efficiency solutions and services related to the NetSuite platform. In the process of selecting this list, CIO Review analyzes company offerings, core competency, news/press releases, client's testimonials, milestones and other recognitions.
View TOP Step Consulting services here: http://www.topstepconsulting.com
Click here to register to attend an upcoming TOP Step Consulting NetSuite OpenAir Webinar providing tips and best practices for OpenAir.
About TOP Step Consulting
TOP Step Consulting improves business efficiency and productivity for professional services business operations. TOP Step helps professional services organizations achieve their profitability goals allowing them to focus on building their business. The TOP Step team is comprised of consultants who have extensive experience in PS business operations, project management, and PS automation. They understand the challenges and rewards of managing an on-demand Professional Services Automation (PSA) system in multi-office and global business environments. TOP Step Consulting has served over 250 customers worldwide. For the past six years, SPI Research has ranked TOP Step Consulting among the Top Performing Professional Services Firms.