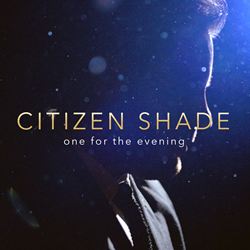 "A bridge between pop music and genuine soul that was desperately needed." - Jake Crenshaw / Producer
Orlando, FL (PRWEB) July 31, 2015
"One for the Evening," the highly-anticipated debut EP from Citizen Shade, is out now on iTunes and across all digital music platforms. Featuring the singles "If You Want" and "Thank You for Your Time," the six-track EP is available on iTunes here.
Fronted by 24-year-old North Carolina native Will Howard alongside cellist Justin Mackey and David Lezcano on keys, Citizen Shade's fresh take on modern pop quickly captured a social media audience of over 30,000 fans prior to the EP's release.
Jake Crenshaw, co-producer of "Thank You for Your Time," says "One for the Evening" is "a bridge between pop music and genuine soul that was desperately needed." That's precisely the musical space Citizen Shade has discovered through their sound. The band is comprised of both pop/rock and classical/jazz musicians contributing tremendously to their effort to break new ground in traditional Top 40. Lezcano brings with him several years of playing in big band and jazz combos and a Bachelor of Music in Piano Performance. Coupled with Mackey's decade of cello performance, these components have created a powerful compliment to Howard's rich voice and keen ear for writing pop melody.
With a unique, smokey tone and remarkable four octave range, Howard's vocals have drawn comparison to the soul of John Legend and the conviction of Adele - distinguishing him as a gifted up-and-coming vocalist to watch in 2015.
To learn more about the new EP "One for the Evening" and Citizen Shade, visit http://www.citizenshade.com.