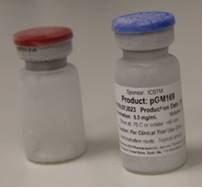 The entire VGXI team is committed to providing the highest quality DNA products and services, and it is rewarding to see these products make a meaningful impact on patients' quality of life
The Woodlands, TX (PRWEB) July 09, 2015
Recently, the United Kingdom Cystic Fibrosis Gene Therapy Consortium (UKCFGTC) published the first clinical data from a Phase IIb, multi-dose clinical trial for cystic fibrosis. In this trial, patients received aerosolized DNA plasmid expressing Cystic Fibrosis Transmembrane Conductance Receptor (CFTR), manufactured at the VGXI cGMP production facility. This trial is the first to show that gene therapy can have a meaningful effect on the disease and benefit the lung function of patients with cystic fibrosis.
"One hundred and thirty-six patients aged 12 and above received monthly, inhaled doses of the gene therapy or a placebo for 1 year," said Professor Deborah Gill, from Oxford University. "The results are encouraging and are expected to lead to a further study to assess higher, more frequent doses."
VGXI is pleased to have provided over 10 years of continued support for the UKCFGTC's translational program.
"We are delighted that the UKCFGTC has continued to trust in VGXI's manufacturing capabilities," said Mr. Young Park, President and CEO of VGXI. "The entire VGXI team is committed to providing the highest quality DNA products and services, and it is rewarding to see these products make a meaningful impact on patients' quality of life."
Since 2005, VGXI and the UKCFGTC have entered into several, multi-year supply agreements for production of the CFTR plasmid product to support the pre-clinical, product development, and clinical programs of the consortium. As part of this partnership, the highly experienced scientific staff at VGXI has enabled significant improvement in production yields through a combination of plasmid re-design and optimization of the fermentation and recovery process. As the clinical program advances toward later stage trials and commercial availability, VGXI looks forward to providing continued, large-scale manufacturing support.
ABOUT VGXI, INC.
With over 15 years of experience, VGXI Inc. is a leading provider of plasmid DNA manufacturing and development services for DNA vaccine and gene therapy research. The company has an outstanding track record of success in manufacturing plasmid products under GMP conditions for clinical trials in the US, EU, Asia and Australia, and its cGMP and non-GMP products have passed rigorous reviews by several international regulatory agencies. VGXI's ability to work with unique requirements and create custom manufacturing solutions is based on its patented manufacturing process, flexible cGMP production facility, and experienced development team. VGXI is a wholly-owned subsidiary of GeneOne Life Science, Inc. (KRX:011000)
ABOUT UK CYSTIC FIBROSIS GENE THERAPY CONSORTIUM
For further information on the work of the UKCFGTC, please visit http://www.cfgenetherapy.org.uk
For the full text publication and clinical data, please visit http://www.TheLancet.com
Cautionary Factors That May Affect Future Results – Materials in this press release contain information that includes or is based upon forward-looking statements within the meaning of the Securities Litigation Reform Act of 1995. Forward-looking statements relate to expectations or forecasts of future events. These statements can be identified by the fact that they do not relate strictly to historical or current facts. They include words such as "anticipate," "estimate," "expect," "project," "intend," "plan," "believe," and other words and terms of similar meaning in connection with a discussion of potential future events, circumstances or future operating or financial performance. In particular, these include statements relating to future actions, prospective products or product approvals, future performance or results of current and anticipated products, sales efforts, expenses, the outcome of contingencies such as legal proceedings, and financial results. Any or all of our forward-looking statements here or in other publications may turn out to be incorrect. They can be affected by inaccurate assumptions or by known or unknown risks and uncertainties. Many such factors will be important in determining our actual future results. Consequently, no forward-looking statement can be guaranteed, and forward-looking statements may be adversely affected by factors, including general market conditions, competitive product development, product availability, current and future branded and generic competition, federal and state regulations and legislation, manufacturing issues, timing of the elimination of trade buying, patent positions, litigations and investigations. Our actual results may vary materially, and there are no guarantees about the performance or valuation of VGX stock. It is also important to read the disclosure notice contained in many of the individual VGX documents available on this Web site as many contain important information on such cautionary factors as of the date of the individual document. We undertake no obligation to correct or update any forward-looking statements, whether as a result of new information, future events or otherwise. You are advised, however, to consult any further disclosures we make on related subjects in our reports.