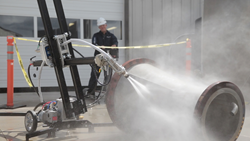 The Striker worked great clearing hardened plastic polymer from piping equipment and allowed us to go 100% automated.
Durango, CO (PRWEB) August 27, 2015
StoneAge is pleased to announce the release of the Striker SKR-100 Remote Shotgun System, an automated system designed for hands-free shotgun applications with an emphasis on safety, usability, and easy assembly. This modular system combines a rotary shotgun arm and positioning system to provide a powerful alternative to manual shotgun cleaning and surface preparation.
Companies like DOW and DuPont are leading the charge to eliminate handheld shotguns in their facilities, marking a major improvement in capability and workplace safety. The Striker system, designed for adaptable hands free shotgunning, meets or exceeds plant automation requirements.
"The maneuverability and portability of the Striker is a vast improvement in the evolution of automation for shotgunning applications," declared James Shafer of DeBusk Services Group, a leading industrial cleaning services provider based in Pasadena, Texas. "The Striker worked great clearing hardened plastic polymer from piping equipment and allowed us to go 100% automated."
The small footprint and portability of the Striker make it unique in the industry – enabling safe, precise shotgun cleaning in tough to reach locations. It eliminates the need for cranes, permits, and heavy equipment, making it an affordable alternative to complicated and expensive robotic systems.
The system is designed with modular components for simple and quick setup. The Striker can accommodate a variety of shotgun nozzles and is built to handle up to 70 pounds of thrust. The Striker comes complete with a wheeled base for easy maneuverability by a single operator, and the entire system is remotely controlled from outside the blast zone for increased safety. Plants and contractors interested in learning more about hands-free shotgun cleaning with the Striker SKR-100 system can visit http://www.stoneagetools.com/striker.
About StoneAge
StoneAge, Inc. is a leading manufacturer of high-pressure waterblast tools and automated equipment for industrial companies and contractors worldwide. Our focus is on developing the highest quality products for industrial, sewer, and downhole cleaning as well as custom equipment for application-specific challenges. All equipment is backed by StoneAge's world class customer service. Units and parts can be shipped same day. Access to our engineering team and technical staff means your questions are answered when you need help. Visit http://www.stoneagetools.com for information.